KEITH RAAD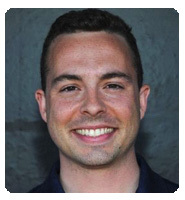 Broadcaster & Account Executive
[email protected]
PH: 718-382-2675
Since taking over the role as the Voice of the Cyclones in 2018, Keith moved into a full-time role as Broadcaster/Account Executive in 2020. He made stops with the Dayton Dragons, Long Island Ducks, and Frisco RoughRiders after graduating the University of Dayton in 2015. Keith also handles play-by-play for football, basketball, and baseball at Wagner College on Staten Island and working in sports TV production as an audio producer.

Hailing from Valley Stream on Long Island, Keith remembers calling his own play-by-play during driveway whiffle ball games and by muting MVP Baseball 2005 -- aka the best video game soundtrack ever. He attended Chaminade High School in Mineola. To this day, he can be found stuffing his face at Magic Bagels, or slurping down his ninth coffee at the Valbrook Diner in Valley Stream.

Keith currently lives in Manhattan with his fiancé, Kaitlyn. He spends his free time searching for his next plate of buffalo wings, sitting at comedy clubs, and watching more Seinfeld.

What brand do you love the most?
I am a sucker for every Taco Bell commercial that introduces a new product. I usually have my keys in my hand before the spot ends. Mild, please.

What is the weirdest food combination you've tried?
There's a restaurant in the East Village called The Black Ant...Yep, ate them in guacamole for the first and last time in history.

What would you change if you were in charge of the company you work for?
All of our games would be broadcast on SNY.

Who has been your most interesting/confusing/annoying neighbor?
They sat me down next to Mordechai Twersky, one of our Account Executives, who became close friends with a Scottish man named Bubbles the Clown. How did they meet? The comments section of a Brooklyn Cyclones Facebook Live broadcast. Mordechai was under an alias

Where's the most surreal area you've been to?
When I was a kid, I went on a family trip through Alaska, including a train trip from Anchorage to Denali National Park. The views of then Mt. McKinley and the forests were pretty illuminating.

What are common misconceptions about your job?
That I'm the public address announcer.

What public spaces do you feel most comfortable in? (Library, bar, park, mall, stadium, etc.)
I could sit in Penn Station during rush hour watching people sprint to their track to catch the train. Their stress is my comfort.

What's the most outdated piece of tech you still use regularly?
I guess this old geezer still enjoys the days of headphones with wires.

Who was your favorite teacher?
Mr. Caso stopped me in the middle of my English class speech freshman year of high school, cutting me off because he thought my depiction of Warren G. Harding's presidency was "inappropriate." Pull me aside one day, I'll tell you the whole thing.

What recent trend are you totally on board with?
The whole city scooter fiasco. I can dig.

What about becoming an adult caught you completely off guard?
That school loans actually meant real cash.

How often do you dance?
Every wedding ever.

What's the best cake you've ever eaten?
Dessert is a complete waste of time.

What kind of art do you appreciate the most?
Music. There are only two types: good and the other kind.

What crossed way too far into the uncanny valley for you?
The Human Centipede.

What's your favorite thing about the area/city/state you live in?
New York City is the center of the universe. End of story.

What's the best day you've had recently?
She wanted you to know it was the day we got engaged.