News
Bringing a group to see a Cyclones game is a unique way to entertain clients, reward employees or just gather friends and family for a great night out. Schools, camps, businesses, teams, firehouses, police precincts, congregations, family reunions – groups from all walks of life fill the ballpark with a distinctively Brooklyn feel, and help to create the most exciting and energetic atmosphere in the Big Apple.
Groups also enjoy preferred treatment and exclusive benefits including discounted tickets, free souvenirs for everyone in the group, advance sales, and opportunities to get on the field, or get an autographed team jersey. And for the person who arranges all the details – a free Group Leader gift and two tickets to an additional night at the ballpark!
So gather up your favorite group and get ready for a night of great baseball, wild entertainment, and non-stop fun with the Brooklyn Cyclones. It will be a night your group will never forget!
GROUP OUTINGS: Wear your Brooklyn pride on your sleeve. Or in this case, on your head! Groups of 20 or more who purchase Field Box or Box Seats will receive a FREE Cyclones cap for every member of their group, in addition to all the other great benefits Group Ticket Holders enjoy!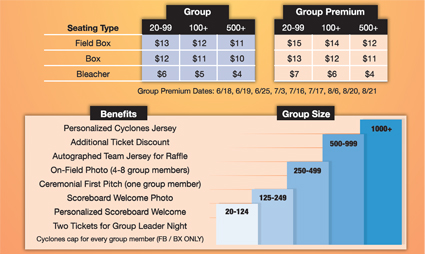 BIRTHDAY PARTY: There's no better way to celebrate your child's big day than by blowing out the candles with the Brooklyn Cyclones! When you bring 10 or more kids to the ballpark for a Cyclones Birthday Party, each child will receive a hot dog, soda, ice cream, bag of chips, and souvenir. Best of all, the birthday boy or girl will stand on the field between innings while the entire ballpark sing "Happy Birthday!" You'll also get invitations and vouchers for one free game of Speed Pitch for each child. It's sure to be a birthday for the ages!
Field Box Seats: $25 per child *** Box Seats: $23 per child *** Bleachers: $18 per child
GALLERY PARTY: You can upgrade your birthday party package for just $5 per child, and enjoy a pre-game party in the Brooklyn Baseball Gallery, with special autograph and photo appearances by a Cyclones mascot and a Cyclones player! Space is limited, so book early!
ADULT BIRTHDAY PARTY: Don't let the kids have all the fun. Grownups can party with the Cyclones, too! When you bring 15 guests or more, for just $40 per person, each member of your party will get a hot dog, a beer or soda, chips, a Speed Pitch voucher, a Cyclones souvenir cap, and a Field Box seat. The birthday boy or girl will even get to throw out a ceremonial first pitch before the game (and don't worry, we won't even tell anyone your age)!
FIELD OF DREAMS: Every little leaguer dreams of running onto a professional field on day – and now they can! The Cyclones invite your youth organization onto the field – in uniform – to stand side-by-side with the Cyclones players and coaches before the game during the National Anthem. With a minimum of 20 tickets purchased, there is no additional charge to participate in the Field of Dreams program. For more information, please call 718 – 37 – BKLYN and ask to speak to a Group Sales representative.
PICNIC AREA: Want a great way to enhance your group experience even more? Ask about the Cyclones Picnic Area! Our spacious Picnic Area provides the perfect locale for a $17 All-You-Can-Eat package meal, fitting groups of 20 or more. The Picnic Area will be yours for approximately on hour and 45 minutes, and is located just behind the outfield bleachers, allowing easy access to your seats. A group of 150 can reserve the tent exclusively for your guests

-- ALL-YOU-CAN-EAT PACKAGE: Add $17 to the cost of your ticket to get unlimited hot dogs, burgers, chips, pretzels, macaroni and potato salad, beans, cookies and soft drinks including bottled water throughout your time in the Picnic Area. Additional catering options are available.
CALL A CYCLONES TICKET REPRESENTATIVE at 718-37-BKLYN
TO BOOK YOUR GROUP OUTING TODAY