News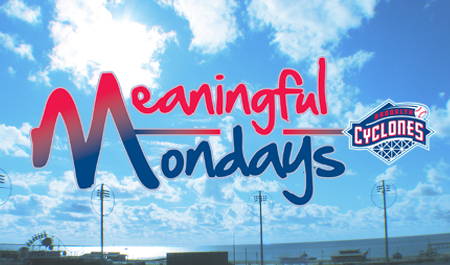 Since the team's inception in 2001, the Brooklyn Cyclones have been consistent contributors throughout the borough's diverse neighborhoods and communities – creating, implementing, and maintaining a variety of programs designed to raise awareness, raise funds and raise spirits.
In 2011, the Cyclones will institute another such program: Meaningful Mondays.
Beginning next week, Cyclones staffers, coaches, players, and mascots will participate in monthly activities designed to give back to the city that houses the popular minor league team, and the people who have become extended members of the Brooklyn baseball family.
"From day one, we've always said that baseball was just a part of our overall operation," said Cyclones General Manager Steve Cohen. "The Cyclones' season lasts about three months each summer, but we are neighbors in the Brooklyn community all year long, and we strive to be very good neighbors – generous, productive, and positive in our efforts. We can't control how many home runs the team will hit, or how many wins we'll get, but we can control the impact we make on the people with whom we come in contact, and Meaningful Mondays is a way for us to really maximize that impact."
The Cyclones' Meaningful Mondays efforts get underway with New York Cares Annual Coat Drive on Monday, January 10th, 2011. Nearly two dozen members of the Brooklyn Cyclones front office staff will help collect, organize and distribute coats at the New York Cares warehouse in downtown Manhattan.
In the weeks to follow, Cyclones staffers will be visiting local schools, helping to clean up and rebuild playgrounds and ball fields, volunteering at soup kitchens and homes for the disabled, and more. In the summer months, when the Cyclones roster is in place, the team's coaches and players will also pitch in – future stars contributing to the future of the Brooklyn community.
To learn more about future Meaningful Monday events visit BrooklynCyclones.com in the coming weeks. If you know of an organization that could benefit from being part of the Meaningful Mondays program e-mail info@BrooklynCyclones.com.