News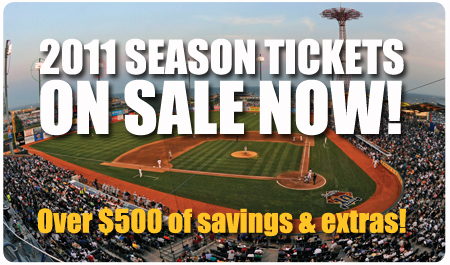 Cyclones Season Tickets are the ultimate plan for the ultimate fan, and 2011 Season Ticket Packages offer more great benefits than ever before! As a Season Ticket Holder, you'll enjoy the best seats at the lowest prices, and get over $500 of savings and exclusive benefits that make you a V.I.P. in the Brooklyn baseball family.

Renew your Season Ticket plan

Purchase a NEW 2011 Season Ticket Plan

2011 Season Ticket Holder benefits are the best we've ever offered. We've kept (and enhanced) what you love, and added more of what you've been asking for! Take a look:
NEW! GIVEAWAY POLICIES TO HELP YOU GET OUR MOST SOUGHT-AFTER ITEMS: Every time we have a giveaway, 1,000 items will be reserved at the Season Ticket Holders gate for STH only. Virtually every STH in attendance will receive an item! You still must be in attendance on the night of the giveaway to receive the item, but this change means that you don't have to worry about getting to the ballpark when the gates open and waiting on line to beat the general public.
NEW! EXCLUSIVE SEASON TICKET HOLDER JERSEY: You'll get a one-of-a-kind jersey that won't be available anywhere else, and you'll get it for FREE! The STH jersey will feature a never-before-seen unique design, with an STH logo on the sleeve, and the number 11 on the back. You'll be able to pick up your jersey at various times throughout the year. (We will have multiple sizes, from adult small through 2XL.)
NEW! GUARANTEED GIVEAWAY OPTION: Want to make sure you get every single collectible giveaway without ever having to wait in line – even when you can't make it to the ballpark? For an additional $60, we will hold one of each 2011 giveaway item for you, whether or not you're at the game! You'll simply pick up your box of Cyclones goodies at designated dates throughout the season – even if you already got one on the day of the game! (Limited to number of seats on account.)
NEW FREE FOOD OPTIONS: We've expanded our free food options for 2011! For each seat in your plan you will receive 13 Grub Club passes to be used every Monday, Tuesday, and Thursday night. Each Grub Club pass is good for your choice of a FREE hot dog/hamburger/turkey burger/BBQ beef sandwich, plus a soft drink and bag of chips. That's 13 nights – and over $100 – of free food! (A new Kosher option is also available this year for $15 per seat. Speak to a ticket office representative for more details.)
VALUE PRICING: You get the best seats in the ballpark for less money – Field Box Seats for just $13 – saving $152 per seat!
EXCLUSIVE EVENTS & INVITATIONS: You'll be invited to participate – for FREE – in popular events like the Meet the Players BBQ and on-field Batting Practice!
GUARANTEED SAME GREAT SEATS: Your seat stays the same for all regular season and playoff home games.
NEW YORK METS PRE-SALE OPPORTUNITY: You'll have the opportunity to buy high-demand Mets tickets before they go on sale to the general public.
FREE PLAYOFF TICKETS: Tickets to every potential Cyclones postseason game are included with every Season Ticket purchase at NO ADDITIONAL COST – a savings of up to $64!
FREE PARKING ON MONDAY AND WEDNESDAYS: Just show your FREE PARKING voucher at the booth to park for free at every Monday and Wednesday game. That's a $60 value!
THE "BROOKLYN CYCLONES EXPERIENCE": Once again, we will reward Season Ticket Holders in unique ways throughout the season, in appreciation of your support. You'll be eligible to win experiences like private meet and greets with players and coaches, first pitch opportunities, the opportunity to watch Cyclones BP in private from the field, autographs, and much more!
ONLINE ACCOUNT MANAGEMENT: Email tickets to friends, or print tickets at home with our easy-to-use system
NO WASTED TICKETS: Can't make it to a game? Redeem your unused tickets stubs to any previously played 2011 game for Box Seats to any future Sunday-Thursday 2011 home game.
STH EARLY ENTRY: Every game, you can enter the park through the exclusive Season Ticket Holders entrance – and get access to the night's giveaway item – 15 minutes earlier than anyone else!
GROUP PICTURE: Stand on the field, side-by-side with the 2011 Cyclones for a group picture you can download and print for free at brooklyncyclones.com.
FLEXIBLE PAYMENT PLAN: Ask us how you can break down your payments into smaller installments.
Perhaps best of all, while the value, benefits, and savings have increased, the cost of Season Tickets will stay the same! 2011 Season Tickets are still priced at $494, marking our third straight year without an increase! For just $13 a game, thanks to all the benefits above, you'll get over $500 of savings and extras while enjoying the great baseball, sneak peeks at future stars, and zany entertainment that makes the Brooklyn Cyclones the most fun – and the best deal – in town!
The 2011 season will feature bobbleheads, t-shirts, Jersday Thursdays, Friday and Saturday night fireworks shows, pre- and post-game festivities on Sunday Fundays, and all the excitement and thrills you've come to expect from Cyclones baseball…with even more surprises in store! Get your Season Tickets now, and make sure you're at MCU Park in 2011 for another summer of fun with the Brooklyn Cyclones!
Renew your Season Ticket plan
Purchase a NEW 2011 Season Ticket Plan