News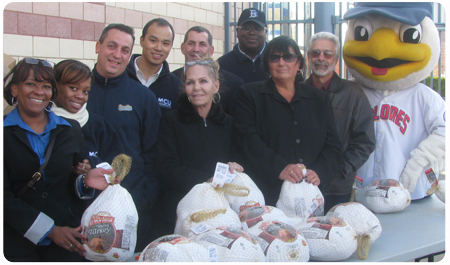 On Wednesday, November 17th, Municipal Credit Union and Brooklyn Cyclones representatives distributed over 300 turkeys to various groups representing underprivileged and less fortunate families in South Brooklyn. Hundreds gathered at Coney Island's MCU Park to receive a turkey which they would not be able to afford otherwise to help feed their families this Thanksgiving.

"A lot of families [in the community], there is no turkey, no Thanksgiving" said Pastor Constance Hulla of the Coney Island Gospel Assembly, which has served needy families in the community for over fifty years. "To make a Thanksgiving for a family with just a simple turkey is special." Pastor Debbie Santiago of the Salt and Sea Mission, which was formed in 1987 to meet the basic needs of people in the Coney Island community, echoed the importance of the donations to the local community. "Some children have never had Thanksgiving at their homes before. For these children to go to school and describe the experience of Thanksgiving at home is something they will never forget."

Since the Cyclones field officially was named MCU Park in February of 2010, the team and MCU have worked in unison to strengthen a connection with a community in which the New York Mets minor league affiliate have already built a great relationship with for the past ten years. Pastor Vincent Fusco of the Coney Island Lighthouse Mission, which is dedicated to fighting hunger and poverty in the local community, feels the generous donation will go a long way with a community that has been greatly affected by recent economic hardship. "We have been praying [for help] with the rough economy, and a donation of this magnitude brings hope to the community. To know there are people out there who really care is something special."

When asked about donating the turkeys to the Coney Island community, Ken Currey, MCU Vice President of Business Development said that "between our community involvement initiatives, our presence in Coney Island with MCU Park, and the opening of our Coney Island Express Branch this coming spring, we hope that the community recognize how dedicated we are in serving them both personally and financially." Steve Cohen, General Manager of the Brooklyn Cyclones stated that "MCU's partnership with the Cyclones has always revolved around community involvement, and making an impact in the borough of Brooklyn. This turkey donation is just another example of the outstanding work that they do, and we are proud to have been a part of the event."

Municipal Credit Union (MCU) is the oldest credit union in New York State and one of the oldest and largest in the country. Established in 1916 and headquartered in New York City, today MCU has assets of over $1.6 billion and offers a full range of financial services to over 320,000 members. With branches in New York City, Westchester and Long Island, members also have access to the credit union's large and growing ATM network. Eligibility to open accounts at MCU is available to New York City and Yonkers municipal employees; state and federal employees who work in the five boroughs; health care professionals who work in New York State; members of select industry groups; employees of private colleges in New York City and private and public colleges in Nassau, Suffolk, and Westchester; certain family members, and qualifying retirees. MCU is an equal opportunity lender and deposits are federally insured to at least $250,000 by the National Credit Union Administration (NCUA), a U.S. government agency. For more information about Municipal Credit Union, visit www.nymcu.org.