News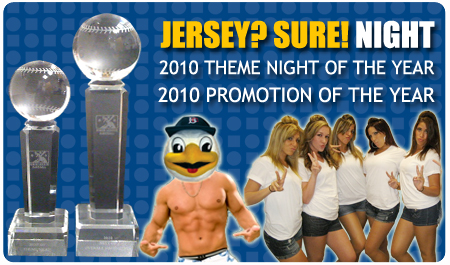 Yo, Brooklyn, we got a situation! An award-winning situation, that is.

Last week, at the Minor League Baseball Promotional Seminar in Las Vegas, NV, the Brooklyn Cyclones' "Jersey? Sure!" Night was named the 2010 Theme Night of the Year and the 2010 Overall Promotion of the Year.

"Jersey? Sure!" Night, held on July 21st this past year, was one of the biggest hits of the summer, and featured fist-pumping fun all night. Cyclones players got "Baseball Blowouts" and nicknames (Jeff Flagg: Big J, Darrell Ceciliani: Ci-Ci, and Rylan Sandoval: Sandy-licious), and the Beach Bums got Snookified with white tees and bouffant hairdos. Staff members beat up the beat all night, and fans got a special Cyclones jersey with a fist-pumping Sandy the Seagull on the back!

In addition to the jersey giveaway, the Cyclones' "Jersey? Sure!" Night featured:
Dugout Dance Battles – Contestants "battled" to techno beats on top of the dugouts between innings for a chance to win prizes (and fame).
GTL Giveaways – In honor of the GTL lifestyle ("gym, tan, laundry") the Cyclones partnered with a local gym, tanning salon, and laundromat to give away GTL gift certificates throughout the night
Baseball Blowouts – A special station on the ballpark's concourse level allowed fans to have their hair styled like a good fastball – high and hard. Stylists from a local salon were on hand to give the hair-raising transformations a professional touch.
"We thought this would be a fun way for us to incorporate one of the hottest trends of the year into our already-unique entertainment," said Cyclones General Manager Steve Cohen (who also goes by the nicknames "Stevie Sweetheart," "DJ Stevie C," "Co-Co," and "The Perspiration"). "We still think the Coney Island shore is the best in the Tri-State area, but we gave Jersey its due…at least for one night.
"We're honored that all of our ideas and hard work were recognized by Minor League Baseball, and we hope our fans enjoyed the night as much as we enjoyed putting it on!"