News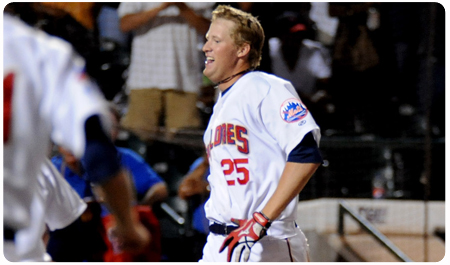 Box Score

The Cyclones split two games of a doubleheader with the Vermont Lake Monsters on Wednesday night. Brooklyn had a lead through the first six innings of game one but ultimately lost by a score of 6-4 in extra innings. In game two -- another extra-inning game -- the Cyclones took advantage of Vermont miscues, scoring twice on one error in the sixth inning, before Will Cherry laid down a sacrifice bunt in the bottom of the eighth that was mishandled by the pitcher, scoring Joe Bonfe from second to win the game 3-2.

Cyclones' pitching surrendered six runs on 10 hits while striking out four in the first game of the double header. Starting pitcher Chris Hilliard tossed 5.1 impressive innings allowing two runs on four hits while striking out two, leaving the game with a lead, setting himself up for a historic 10th win of the season, but it was not to be. RHP Daniel Carela relieved Hilliard in the sixth, retiring one batter with one strikeout. RHP Wes Wrenn came on to retire the last batter in the sixth before surrendering two runs in both the seventh and eighth innings, and was ultimately tagged with the loss. Wrenn allowed four runs on six hits while striking out one over 2.1 innings of work.

Brooklyn's bats scattered four runs on four hits in game one. CF Cory Vaughn posted the game's best numbers, going 1-for-3 with three RBI, bringing his season total to 53. 2B Justin Schafer, 3B James Shroeder and C Blake Forsythe registered the other three Cyclones hits with Schafer and Schroeder scoring one run each. SS Wilfredo Tovar and newcomer LF ZeErika McQueen rounded out the offense, scoring one run apiece.

Spot starter Nelson Pereira received the nod for the start in game two, tossing three scoreless innings, allowing one hit and striking out one. RHP Michael Weldon came on in the fourth to make his first appearance for Brooklyn, hurling two innings and surrendering one run on one hit while striking out one. LHP T.J. Chism made his third appearance for the Cyclones in the sixth inning, allowing one run on one hit over one inning of work. RHP Hamilton Bennett came on to pitch a scoreless seventh inning allowing just one hit. Johan Figuereo tossed a scoreless eighth frame to earn the win

Joe Bonfe was a bright spot for the offense in game two, going 4-for-4 to bring his average up to .322 and scoring the game-winning run.

The Cyclones and Lake Monsters match up again on Thursday, and the first 2,500 fans in attendance will receive an "Original Road" replica jersey, as part of the Jersday Thursday series.
There's something for everyone at every Cyclones game -- free t-shirts, free jerseys, bobbleheads, fireworks, free food, and more!

Check out the entire promotional schedule and get your tickets now!

Written by Josh Mevorach