News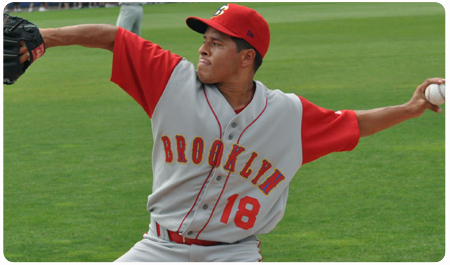 Box Score

The Brooklyn Cyclones (44-22) lost to the Connecticut Tigers (34-34) by a score of 6-3 on Sunday, a day after clinching the McNamara Division title.

LHP Angel Cuan (5-1) suffered his first loss of the season, allowing four runs -- three earned -- on six hits over five innings. Cuan (pictured, by George Napolitano) walked one batter and struck out three. His ERA on the year jumped to 2.14. RHP Wes Wrenn came on in relief of Cuan, but gave up two runs in two innings. LHP Hamilton Bennett returned to action after a battle with pneumonia to toss one perfect frame in his first game since August 7th.

The Cyclones scored all three runs on one swing of the bat on Sunday -- a three-run home run by Cory Vaughn. The long ball was Vaughn's 13th of the year, tying a single-season franchise record set by Frank Corr in 2001. The home run also established a new single-season RBI record for Vaughn, who now sets the standard with 49 RBI on the year. Brooklyn managed just three other hits on the night -- one each from Darrell Ceciliani, J.B. Brown, and Jeff Flagg.

The Cyclones return to MCU Park on Tuesday, August 31st to take on the Vermont Lake Monsters. Brooklyn and Vermont will complete a suspended game, starting at 6:30pm. That day will be the last t-shirt Tuesday of the season, with the first 2,500 fans in attendance will receive a "BC Logo" t-shirt, presented by Kristal Auto Mall. Tuesday is also Mustache Mayhem Night, and the first 1,000 fans will receive stick-on mustaches!

There's something for everyone at every Cyclones game -- free t-shirts, free jerseys, bobbleheads, fireworks, free food, and more!

Check out the entire promotional schedule and get your tickets now!