News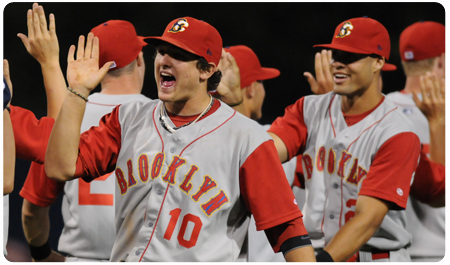 Box Score

The Brooklyn Cyclones (44-21) clinched the 2010 McNamara Division title with a dominating 10-0 win over the Connecticut Tigers (33-34) on Saturday and a loss by Hudson Valley. The division title is Brooklyn's fifth in 10 seasons, and the first since the 2007 campaign.

Yohan Almonte (8-4) tossed a brilliant nine-inning, complete-game shutout on Saturday, allowing just six hits on the night, while striking out five Tigers without issuing a walk. The win is Almonte's eighth of the year, and lowers his ERA on the season to 2.00.

The Brooklyn bats unloaded for 10 runs on 15 hits, including home runs by Blake Forsythe and Jeff Flagg. Six Cyclones notched multi-hit games -- Forsythe, Flagg, Darrell Ceciliani, Cory Vaughn, James Schroeder, and Justin Schafer. Schafer went 3-for-5 on the day, Ceciliani drove in three runs, and Vaughn tied a franchise single-season record with his 46th RBI. Flagg's home run gave him 45 RBI.

Brooklyn now sets its sights on locking up home field advantage throughout the postseason, and possibly setting a new best single-season club record (52-24 is the all-time best mark, set by the 2001 team).

The Cyclones return to MCU Park on Tuesday, August 31st to take on the Vermont Lake Monsters. Brooklyn and Vermont will complete a suspended game, starting at 6:30pm. That day will be the last t-shirt Tuesday of the season, with the first 2,500 fans in attendance will receive a "BC Logo" t-shirt, presented by Kristal Auto Mall. Tuesday is also Mustache Mayhem Night, and the first 1,000 fans will receive stick-on mustaches!

There's something for everyone at every Cyclones game -- free t-shirts, free jerseys, bobbleheads, fireworks, free food, and more!

Check out the entire promotional schedule and get your tickets now!