News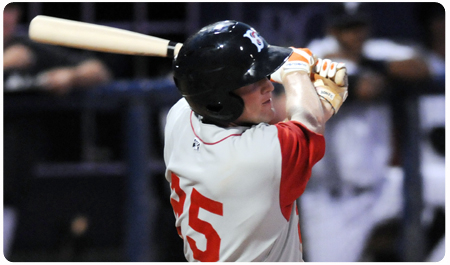 Box Score

The Cyclones (41-20) belted three home runs on Saturday to beat the Vermont Lake Monsters (30-28) by a score of 8-7. With the win, Brooklyn's "magic number" lowers to six, with 15 games left in the season.

Jeff Flagg, Blake Forsythe, and Joe Bonfe (pictured, by George Napolitano) each went deep for Brooklyn, hitting ther seventh, second, and fourth home runs, respectively. Bonfe's was a two-run shot in the eighth inning that put the Cyclones ahead to stay. Seven of the Cyclones' eight runs on Saturday were driven in via the home run. In all, Brooklyn notched nine hits, with Bonfe (2-for-4) and Forsythe (2-for-5) recording multi-hit games.

Starting pitcher Angel Cuan lowered his season ERA to 1.91 with five strong innings in which he allowed just two unearned runs on three hits. Six Brooklyn relievers followed, before Ryan Fraser eventually came on to earn his 10th save.

The Cyclones return home on Tuesday, August 24th to take on the Hudson Valley Renegades in their first game back after a five-game road trip. That night, the first 2,500 fans will receive a "Property Of" T-shirt presented by Men's Senior Baseball League. Tuesday is also Bark in the Park night presented by Mayor's Alliance for NYC's Animals and Purina Dog Chow.

There's something for everyone at every Cyclones game -- free t-shirts, free jerseys, bobbleheads, fireworks, free food, and more!

Check out the entire promotional schedule and get your tickets now!