News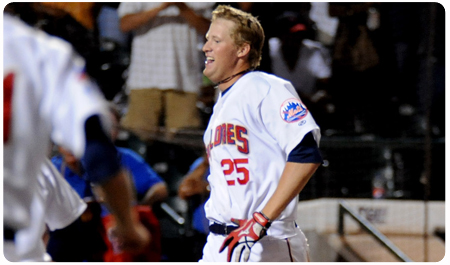 Box Score

The Cyclones won in walk-off fashion in the bottom of the 11th inning to win by a score of 5-4 on Friday night as they swept a three-game series from the Batavia Muckdogs. The win is Brooklyn's third in a row and brings their overall record to 33-15, maintaining their nine-game lead atop the McNamara Division.

The Cyclones' bats were held hitless through the first six innings but then exploded for five runs on seven hits to overcome two-run deficits in both the seventh and ninth innings, eventually winning in the 11th inning thanks to a walk-off home run by DH Joe Bonfe. Bonfe (pictured, by George Napolitano) went 2-for-4 with one run and one RBI. RF Cory Vaughn, 1-for-3 with two RBI, hit his 12th home run of the season in the bottom of the ninth to knot the game up at 4-4 . 3B Brian Harrison put together a 1-for-3 night with two RBI and one walk, the two RBI coming off a single in the seventh inning to tie the game at 2-2. CF Darrell Ceciliani sparked the offense, going 3-for-5 with two runs to bring his average up to .387 on the season.
Brooklyn's pitching had another strong showing, allowing four runs on eight hits while striking out 12. LHP
Angel Cuan
started the game and threw five shutout frames before finally surrendering two runs (one earned) in the sixth inning. Cuan tossed six innings, surrendering five hits with seven strikeouts. LHP
Nelson Pereira
came on in the seventh inning to throw one scoreless frame without allowing a hit and striking out one. RHP
Johan Figuereo
entered the game in the eighth inning and allowed two runs on three hits while striking out two over two innings of work. LHP
Adam Kolarek
(1-0) closed out the game and earned his first win of the season by throwing two scoreless innings and not allowing a hit while striking out two.
The Cyclones are home throughout the weekend, as the Connecticut Tigers come to town for a three-game series. On Saturday, the first 2,500 fans in attendance will receive a backpack, presented by Pepsi, and there will be a fireworks show from inside the ballpark after the game!

There's something for everyone at every Cyclones game -- free t-shirts, free jerseys, bobbleheads, fireworks, free food, and more!

Check out the entire promotional schedule and get your tickets now!

Written by Josh Mevorach