News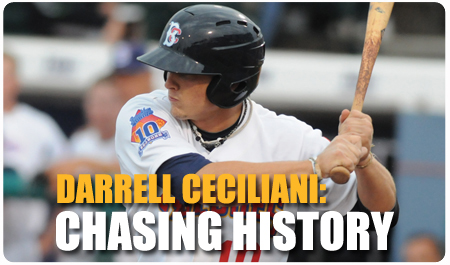 In the Cyclones' historic tenth season, the player wearing uniform number 10 is on his way to rewriting the franchise's -- and perhaps the league's -- record books.

Centerfielder Darrell Ceciliani -- barely 20 years old (born on June 22, 1990) -- is having one of the most impressive seasons in the Cyclones' decade-long history. Entering play on August 2nd, Ceciliani is leading the New York-Penn League with an eye-popping .391 batting average (66-for-169) in 43 games from the number two hole in the Cyclones lineup.

No player in the NYPL has hit .400 since Jack Maloof did so for Auburn in 1971...19 years before Ceciliani was even born.

Ceciliani also leads the league in games (43), hits (66), at bats (169), triples (9), total bases (95), and runs scored (38). He is second in on-base percentage (.444), third in extra-base hits (20), tied for third in stolen bases (15), and fourth in slugging percentage (.562). In addition, the Madras, Oregon native has played spectacular defense, patrolling MCU Park's vast centerfield (the deepest in the league, at 412 feet) with speed, agility, and fearlessness. He routinely cuts off sinking liners from falling in front of him, races gap to gap like a thouroughbred to eliminate extra-base hits, and has made run-saving -- and game-saving -- over-the-shoulder catches and sliding catches on the warning track, as well.

Ceciliani was selected by the Mets in the fourth round of the 2009 June First-Year Player Draft, out of Columbia Basin Community College (OR). He hit .234 (37-for-158) in his professional debut with rookie-league Kingsport, but has blossomed in his second pro season, thanks in part to the tutelage of Cyclones manager Wally Backman -- an Oregon native and former successful number two hitter, himself.

Backman loves what he sees from Ceciliani. "He's just a baby. He's the youngest guy we have, and he's still learning the finer points of the game, but Darrell has the tools, the makeup, the mindset, and the work ethic to go far in this game," says Backman. "Among other things, we made it a point to talk to Darrell about using his speed this year to start dropping down some bunt base hits. As the number two hitter, he can also use that to move runners over when he has to. He's already got about 10 bunt base hits this year, and it's become just another weapon in his arsenal. It shows you how he can adjust parts of his game, pick up new things, and make them work on the field. He's a special player."

For his part, Ceciliani isn't thinking about records...he's thinking about a ring. "If I wind up breaking any records, that would be cool, but I'm not focused on that at all. I'm trying to get better every day, hit the ball hard every at bat, get on base as much as I can, and help the team win as many games as we can."

So far, he's doing just that. With Ceciliani as the catalyst in the Cyclones offense, Brooklyn leads all teams with 30 wins and a .698 winning percentage in 43 games.

In the Cyclones tenth season, number 10 has Brooklyn poised at a run for ring number two.
Ceciliani's nine triples are already a single-season record for the Cyclones. Here's how Darrell stacks up against some of the other single-season franchise marks:


| | | |
| --- | --- | --- |
| Category | Ceciliani | Cyclones record |
| Average | .391 | .328 (Jay Caligiuri, 2001) |
| Hits | 66 | 79 (Ambiorix Concepcion, 2004; Dustin Martin, 2006; Kirk Nieuwenhuis, 2008) |
| At-bats | 169 | 285 (Kirk Nieuwenhuis, 2008) |
| Runs | 38 | 49 (Micah Schilling, 2007) |
| Stolen Bases | 15 | 30 (Angel Pagan, 2001) |