News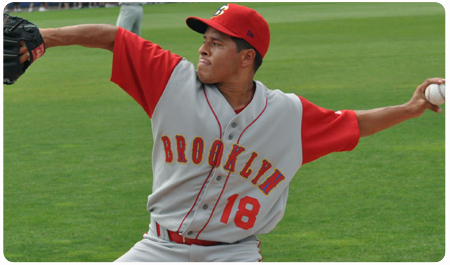 Box Score

Brooklyn (25-13) beat Staten Island (18-16) by a score of 3-1 on Monday to close out the first half of the season, leading the McNamara Division by four games. The loss pushes the Yankees into third place, trailing Brooklyn by five games.

Cyclones pitchers held the Yankees to just one run on Monday, with starting pitcher Angel Cuan tossing six shutout frames to earn his fourth win. Cuan (pictured, by Priyanka Badlani) is undefeated on the year, and his 1.50 ERA ranks fourth in the New York-Penn League. Cuan was followed by Hamilton Bennett, who allowed one run in one inning, before Ryan Fraser closed out the Yankees with two hitless innings to notch his sixth save of the year. Fraser has an 0.53 ERA in 17 innings of work this year, and has not allowed a hit in his last five appearances.

Brooklyn scored two runs in the second inning to take an early lead when Rylan Sandoval singled home Brian Harrison, and Cory Vaughn later drew a bases-loaded walk that plated Kurt Steinhauer. The Cyclones tacked on an insurance run in the ninth inning when Darrell Ceciliani drove in Luis Nieves with a single of his own. Sandoval, Ceciliani, Vaughn, and J.B. Brown had Brooklyn's four hits in the game.

The Cyclones return home on Saturday, July 31st to again face the Staten Island Yankees at 6p.m. That night the first 2,500 fans in attendance will receive a one-of-a-kind Sleeved Blanket, presented by Verizon Wireless. A spectacular fireworks show from inside the ballpark will also follow the game.

There's something for everyone at every Cyclones game -- free t-shirts, free jerseys, bobbleheads, fireworks, free food, and more!

Check out the entire promotional schedule and get your tickets now!