News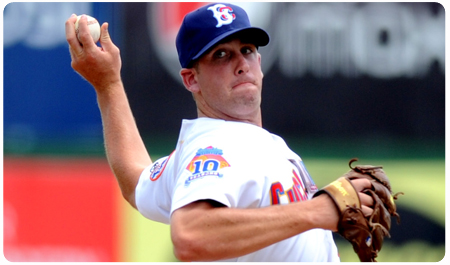 Box Score

Brooklyn's high-powered offense was held in check on Saturday, losing to Staten Island by a score of 3-2. Despite the loss, the Cyclones maintain a five-game lead over the Yankees for first place in the McNamara Division.

Starting pitcher Yohan Almonte surrendered all three runs in the third inning. He, Adam Kolarek, and Ryan Fraser kept the Yankees off the board for the rest of the game, but the Cyclones offense could not mount a comeback. Almonte took the loss, his third of the year, allowing the three runs on seven hits with two walks and four strikeouts. Kolarek (pictured, by George Napolitano) struck out three in 1.2 hitless frames, and Fraser got two outs without allowing a baserunner.

Brooklyn tallied six hits, with Rylan Sandoval, Darrell Ceciliani, Cory Vaughn, Jeff Flagg, J.B. Brown, and Blake Forsythe each recording a safety. Sandoval and Brown's hits were doubles -- the only extra-base hits of the night. Vaughn also drove in his league-leading 35th RBI.

The Cyclones return home on Sunday to again face the Staten Island Yankees at 5p.m. That day is the first Sunday Funday of the year, and fans are invited onto the field before the game to have a catch, and after the game to run the bases.Line up at sections 19 and 20, and a Cyclones representative will usher you onto the field, where you can play catch. Please bring your own gloves and ball if you plan on participating! After the game, kids also get to run the bases!

There's something for everyone at every Cyclones game -- free t-shirts, free jerseys, bobbleheads, fireworks, free food, and more!

Check out the entire promotional schedule and get your tickets now!