News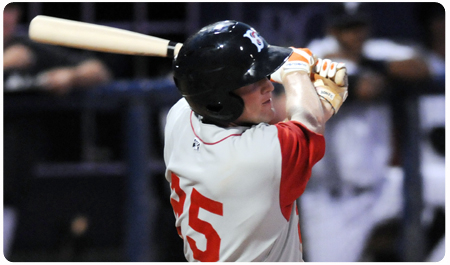 Box Score

Brooklyn's four-game winning streak was snapped with a one-run loss on Monday, falling to Lowell by a score of 3-2. The loss drops Brooklyn to 14-10 on the season -- still just a half-game out of first place in the McNamara Division.

Brooklyn was only able to score two runs, despite notching 11 hits. The Cyclones were unable to get the clutch hits they needed on Monday, leaving eight runners on base, and going 2-for-10 with runners in scoring position. 2B J.B. Brown went 2-for-4 and started the ninth inning with a single to centerfield. Two batters later, C Taylor Freeman -- who went 1-for-4 with one RBI -- hit a one-out single to right field, but the Cyclones' rally ended there. 3B Joe Bonfe went 3-for-4 and scored the other Cyclones run on a wild pitch in the seventh inning. Bonfe (pictured, by George Napolitano) is now hitting .342 on the season. SS Rylan Sandoval and CF Darrell Ceciliani added two hits apiece while DH Brian Harrison and LF Kurt Steinhauer checked in with one hit each.

RHP A.J. Pinera got his first start of the season, and allowed just one hit and one walk over four scoreless innings of work. RHP Nick Carr came on in the fifth inning to pitch one hitless frame, with one strikeout. RHP Jonathan Kountis took the mound in the sixth inning and was saddled with the loss, surrendering three runs on three hits with three walks and three strikeouts. RHP Samuel Taveras came on to pitch a scoreless eighth inning with one strikeout to keep the Cyclones within one going into the ninth.
The Cyclones return to MCU Park on Wednesday, July 14th to take on the Mahoning Valley Scrappers at 7pm. That night, the first 2,500 fans in attendance will receive a Wally Backman: Then & Now bobblehead, featuring Wally as a 1986 Mets second baseman, and also as the Cyclones' manager.

There's something for everyone at every Cyclones game -- free t-shirts, free jerseys, bobbleheads, fireworks, free food, and more!

Check out the entire promotional schedule and get your tickets now!

Written by Josh Mevorach