News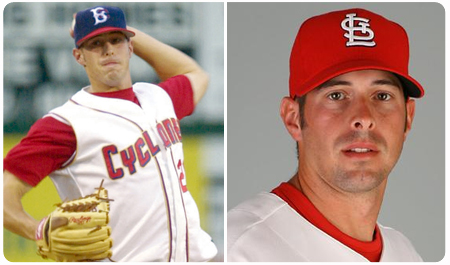 Former Cyclone Evan MacLane became the 26th team alum to advance to the major leagues, making his debut for the St. Louis Cardinals on Thursday, July 7th.

MacLane surrendered a walk-off home run to the Colorado Rockies' Chris Ianetta -- the only batter he faced. Cardinals pitching coach Dave Duncan, however, noted that MacLane was thrown into the fire in a very difficult situation in his big-league debut. "Little bit of an unfair assignment," said Duncan.

MacLane appeared in one game for Brooklyn in 2003, and then became one of the Cyclones' best pitchers in 2004. That year, he went 5-3 with a 3.16 ERA in 13 games (all starts). In 74 innings, he allowed 70 hits and 35 runs (26 earned). He also showcased brilliant command, walking just six batters all year, while striking out 70.

In the years that followed, MacLane advanced to the Mets' Triple-A Norfolk affiliate, before being traded to the Arizona Diamondbacks for outfielder Shawn Green in 2006, and later traded to St. Louis in 2009. Evan spent all of 2009 and the first part of 2010 with Memphis (AAA) of the Pacific Coast League. He was actually added to the St. Louis 25-man roster earlier this season, after the Cardinals' 20-inning game against the Mets, but did not appear in a game at that time.