News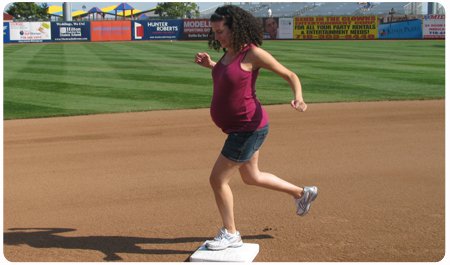 For generations, it has been said that Brooklynites have been "born into baseball." This summer, that term may be more literal than ever before.

On Saturday, July 10th at 6pm, the Brooklyn Cyclones are hosting the Second Annual Bellies & Baseball: A Salute to Pregnancy, presented by Palmer's Cocoa Butter – a favorite pregnancy brand for both celebrity and consumer moms.

The team is inviting expectant parents to participate in a variety of themed activities…including a special prize for anyone who gives birth at the game!

"Last year, we had a great time with our Bellies & baseball promotion," said Cyclones General Manager Steve Cohen. "Everyone involved told us how much fun they had – and we even had one set of parents name their daughter 'Brooklyn,' and take us up on our offer for free Season Tickets!"

Activities and entertainment at the July 10th game will include:
Barefoot & Pregnant: Expectant moms can run (or, more likely, walk) the bases with no shoes on before the game
Craving Station: A table on the Concourse level will offer pickles, ice cream, anchovy pizza, etc. for pregnant women who crave more than the usual ballpark fare
Water Break: Two expectant fathers will try to complete a race with water balloons attached to their bodies. The winner is the one who lasts the longest or finishes the race without his water breaking
7th Inning Stretch Marks: Pregnant women will be allowed onto the field in the 7th inning to sing Take Me Out to the Ballgame
Lamaze on the Lawn: The Cyclones will offer a Pre-game Lamaze class on the grass in centerfield
Special Delivery: Any woman who gives birth at the ballpark before the end of the game gets free Cyclones Season Tickets for life for each member of her new family
Naming Rights: Any expectant mother who agrees to name her child "Brooklyn" or "Cy" gets free Season Tickets for life
Pregnancy Pitch: Any woman in her third trimester gets to throw out a ceremonial first pitch before the game
Trimester Tricycles: Bike race between expectant fathers between innings
Get your tickets now!

Palmer's Cocoa Butter Formula is the No. 1 brand of cocoa butter products worldwide, offering a full line of cocoa butter items, from creams, lotions and lip balms to soap, body oil, body wash and hair care, anchored by the line's original solid formula. Palmer's wealth of Cocoa Butter Formula items also includes the company's stretch mark products for new and expecting moms, like the Cocoa Butter Formula Massage Cream for Stretch Marks, Massage Lotion for Stretch Marks and Tummy Butter. The products help to improve the appearance of stretch marks experienced because of pregnancy-related body changes, such as pregnancy weight gain and post-pregnancy weight loss. Celebrity spokespeople for the stretch mark line have included athlete and TV personality Laila Ali and model and actress Angie Everhart.