News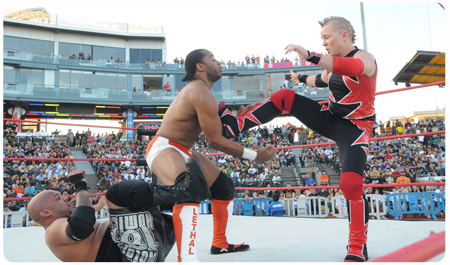 Almost 5,500 fans turned out at MCU Park on Friday night for TNA's biggest U.S. show ever!

The TNA stars lived up to their name with total nonstop action all night long. Brooklyn's own Amazing Red (pictured, by George Napolitano) got the night started with a high-flying win in a four-way match, followed by an upset by TNA Knockout Angelina Love. TNA Founder -- and wrestling legend -- Jeff Jarrett welcomed the fans, before stars like Jeff Hardy, Team 3D, and Kurt Angle thrilled the crowd with exciting wins. In the main event of the night, TNA Heavyweight Champ Rob Van Dam retained his title with an action-packed win over AJ Styles.

"I've wrestled all over the world," said Jarrett, "from Australia, to India, to Japan, and everywhere in between. I can honestly say that there's nowhere in the world that has fans like New York!"