News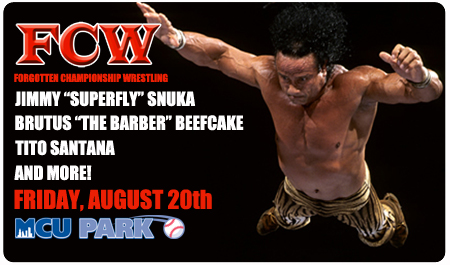 On Friday, August 20th, some of wrestling's most legendary names will be in action as FCW comes to MCU Park!

The event kicks off with a 5pm Wrestling Convention, followed by a live show at 7pm. Tickets are priced at $20. Partial proceeds will be donated to the Wounded Warriors Project & Wheelchair Sports Federation. All military veterans and active duty members receive FREE ADMISSION! Wounded Warriors will be in attendance as FCW guests.

Stay in your seats for a spectacular fireworks display after the show!
Confirmed stars to appear include:
FORMER WWE/WCW SUPERSTAR AND CO-FOUNDER OF THE NWO SCOTT HALL

ECW Original, Former WWE Super Star "Innovator of Violence" Tommy Dreamer

WWE Hall of Famer Jimmy "Superfly" Snuka

Former WWE Super Star Brutus "The Barber" Beefcake

Former WWE Tag Team Champion, Intercontinental Champion and Former ECW Champion, Tito Santana

Former WWE Tag Team Champion Nikolai Volkoff

Former WWE Super Star and Indy Legend Romeo Roselli

Legend Wrestler Diamond Jim Brady

Former WCW Wrestling Star La Parka USA

Former WWE Star Teddy the Tank Reade

Former ECW STAR Dancing with Dudley

USO Liberty Bells

USA Cheer Leaders

Miss NY Teen USA 2010 Thatiana Diaz

Indy Star Justin Cage

Professor Paul Pope The keenest mind in the biz.

FCW Heavy Weight Champion, Mr. Everything Johnny Ledoux

The Indestructible Slugga

Indy Legend Grim Reefer

The Rock star Ryan Blackheart

Samuel Mr. Excitement Elias

Lil Greatness

Just Jeff

Damien H.S. Darling

ROH Becky Bayless

Mr. Deep Pockets Jimmy Dollars
The mission of Wounded Warrior Project is to honor and empower wounded warriors. Wounded Warrior Project is designed to raise awareness and enlist the public's aid for the needs of severely injured service men and women, help severely injured service members aid and assist each other, and provide unique, direct programs and services to meet the needs of severely injured service members.