News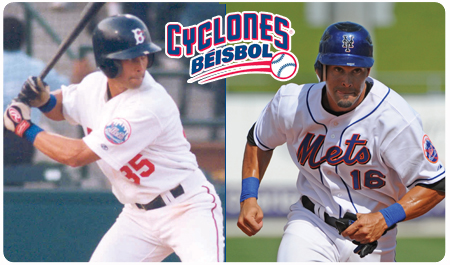 The Cyclones are proud to announce the launch of Cyclones Beisbol -- a spanish-language page of the team's website.

In conjunction with the announcement, the Cyclones are also hosting a Latino Fest on July 8th, and one of the team's most popular and successful players -- Mets centerfielder Angel Pagan -- will return to the ballpark for a special ceremony and to meet with fans. In addition to the appearance by Pagan, the July 8th Latino Fest will feature Salsa dancing lessons on the ballpark's concourse level, a mariachi band, and an entire inning announced in Spanish. In addition, for the first time ever, the Cyclones game will be broadcast in Spanish on WQBU 92.7 FM.

Latino Fest is sponsored by El Diario, Health Plus, The Brooklyn Borough President's Office, Viva Salsa Dance Studio, Boricua Festival, and Tapatio Mariachi.
Pagan was an All-Star star centerfielder for the Cyclones in 2001, the team's inaugural season. He led off for the '01 Brooklyn club, and led them to a championship with a .315 batting average (75-for-238), 10 doubles, two triples, 15 RBI, and a team-high 46 runs and franchise-record 30 stolen bases. He has since gone on to enjoy a successful major league career, first with the Chicago Cubs, and now with the New York Mets.

The first 2,500 fans in attendance on July 8th will also receive a free 1986-styled Wally Backman Jersey, presented by WFAN Sports Radio 66, as part of the Cyclones' Jersday Thursday series.