News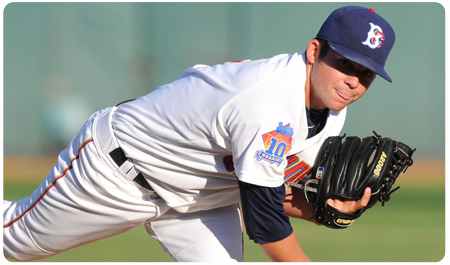 Box Score

The Cyclones lost a back-and-forth battle with Staten Island on Thursday, recording their first home loss of the season by a score of 8-5..

Despite the loss, several Cyclones had strong offensive showings. CF Darrell Ceciliani extended his hitting streak to eight games, going 2-for-3 with a single, double and two RBI. His batting average on the season now stands at .418 SS Luis Nieves also had a good game, going 2-for-4 with an RBI and two runs scored. LF Cody Holliday went 2-for-4 as well, and scored one run. DH J.B. Brown has begun to swing a hot bat, and went 2-for-3 with an RBI. RF Cory Vaughn registered his 14th RBI to tie him for second in the league with teammate Jeff Flagg.

Starting pitcher Wes Wrenn went five innings, giving up four earned runs on seven hits while striking out four. The big blows came on back-to-back home runs that tied the game in the fifth inning. RHP Ryan Fraser relieved Wrenn in the fifth with runners on first and third and struck out two of the first three batters he faced. However, a passed ball scored one and advanced runners to second and third, setting up a two-run single to the next batter that put Staten Island on top to stay. RHP Jonathan Kountis and LHP Nelson Pereira followed from the bullpen, and allowed one run each. Every Cyclones pitcher on Thursday allowed at least one run.

The Cyclones travel to Staten Island on Friday, and then return home to MCU Park on Saturday, to again take on the Yankees at 6pm. The first 2,500 fans in attendance on Saturday will receive a BBQ Tool Set, presented by Pepsi. Saturday is also Fireworks Night -- fans will be treated to a spectacular fireworks show to celebrate Independence Day after the game.

There's something for everyone at every Cyclones game -- free t-shirts, free jerseys, bobbleheads, fireworks, free food, and more!

Check out the entire promotional schedule and get your tickets now!