News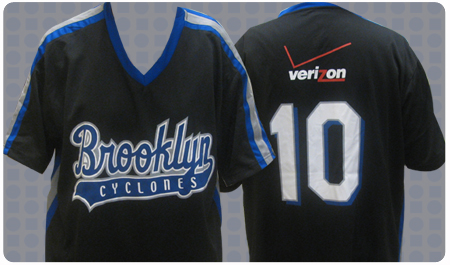 On Thursday, August 26th, the first 2,500 fans in attendance for the Cyclones' 7pm game will receive a "Pitch Black" jersey, presented by Verizon FiOS, as part of the Jersday Thursday series.
The Pitch Black jersey features a never-before-seen design -- a black, blue, and grey color scheme, with a pullover v-neck style. The body of the jersey is black, with blue and grey "racing stripes" on the sleeves. The word "Brooklyn" is written in script across the chest in blue, with the word "Cyclones" in the tail. A white number 10 (signifying the year) is on the back of the jersey.
Every Thursday home game is extra special this summer, thanks to JERSDAY THURSDAYS, featuring high-quality, limited-edition replica jersey giveaways!
Jerseys will be given to the first 2,500 fans in attendance each night. Gates open 90 minutes before gametime.
Adding even more excitement to the Thursday games,
all fans will be invited to run the bases
on the field after the game!