News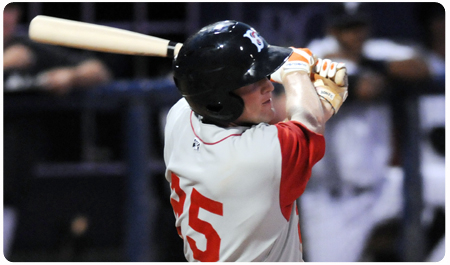 Box Score

Brooklyn's bats erupted for 12 hits on Tuesday night, as the Cyclones beat the Hudson Valley Renegades by a score of 8-6 to extend their lead in the McNamara Division.

The Cyclones led by six runs after the fourth inning, before Hudson Valley plated a run in the fifth and three more in the sixth to close the deficit to two. That was as close as the Renegades would get, though, thanks to a shaky but effective effort by the Cyclones' bullpen and a couple of insurance runs in the ninth inning.

All nine batters in the Cyclones' starting lineup notched hits in the game, including 3B Joe Bonfe (pictured, by George Napolitano), who went 3-for-4 to raise his season average to .406. CF Cory Vaughn belted his team-leading fourth home run of the season -- giving him three straight games with a round-tripper.

LF Will Cherry put Brooklyn on the board with a two-run double in the first inning, and DH Darrell Ceciliani, SS Rylan Sandoval, and Vaughn chipped in with RBI in the fourth to extend the Cyclones' lead. In the top of the ninth, Vaughn blasted a solo shot and Bonfe drove in RF Kurt Steinhauer, who had doubled for his first professional hit.

Starting pitcher Chris Hilliard (3-0) mowed through the first four innings, keeping the Renegades off the board before surrendering a single run in the fifth, and running into trouble in the sixth. He allowed three runs in that frame, although only one of them was earned. RHP Jonathan Kountis relieved Hilliard with two outs and escaped the jam. Kountis allowed one hit in his one scoreless inning of work. LHP Nelson Pereira then relieved Kountis with 1.1 scoress frames before loading the bases and making an error that allowed a fifth run to cross the plate for Hudson Valley. Pereira allowed a second run on an RBI groundout, before RHP Johan Figuereo got a dramatic strikeout to earn his fourth save.

The Cyclones return home to MCU Park on Wednesday, and will again take on the Hudson Valley Renegades at 7pm. The first 2,500 fans in attendance on Wednesday will receive a Duffle Bag presented by The City University of New York (CUNY). It is also Weiner Wednesday, with great deals on hot dogs & sausages.

There's something for everyone at every Cyclones game -- free t-shirts, free jerseys, bobbleheads, fireworks, free food, and more!

Check out the entire promotional schedule and get your tickets now!