News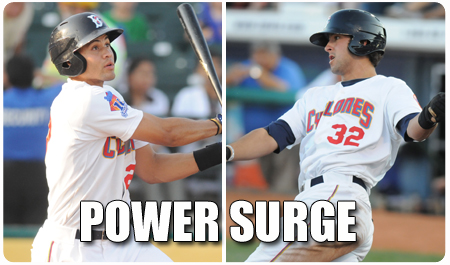 Box Score

Brooklyn launched two home runs for the second straight game on Monday night en route to a 5-2 victory against Hudson Valley at MCU Park. Adorned in special fan-designed "YOUniforms," the Cyclones remained undefeated at home this season and increased their first-place lead in the McNamara Division to 1.5 games.
RF Cory Vaughn went 2-for-4 with a deep triple to right field and his team-leading third home run of the season. It was also his second long ball in as many nights. CF Darrell Ceciliani entered Monday's game leading the New York Penn League in runs scored with 12 and added to his total with two runs on three hits to raise his team-best average to .409. 1B Jeff Flagg had two hits, including a two-run shot over the left field wall in the fifth inning to add to his team-leading 10 RBI.
RHP Yohan Almonte kept the Renegades in check over five innings, allowing only one run while striking out five to earn his second win of the season. Cyclones closer Johan Figuereo finished the game with a perfect ninth inning for his third save.

LHP Angel Cuan will take the mound for his first start at MCU Park on Wednesday night, when the Cyclones return home to again take on the Hudson Valley Renegades. The first 2,500 fans in attendance will receive a Duffle Bag presented by The City University of New York (CUNY). It is also Weiner Wednesday, with great deals on hot dogs & sausages.
There's something for everyone at every Cyclones game -- free t-shirts, free jerseys, bobbleheads, fireworks, free food, and more!
Check out the entire promotional schedule and get your tickets now
!


Written by Christian Karayannides