News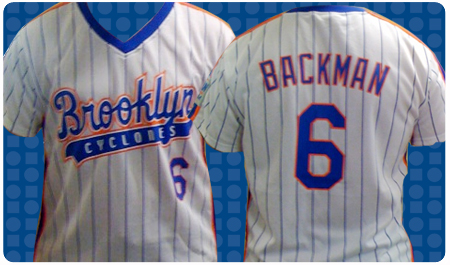 On Thursday, July 8th, the first 2,500 fans in attendance for the Cyclones' 7pm game will receive "'86 Backman" jerseys, presented by WFAN Sports Radio 66 AM, as part of the Jersday Thursday series.

The "'86 Backman" jersey is one of the most sought-after jerseys of the season, and features the Brooklyn script across the chest with a blue & orange color scheme and blue pinstripes, replicating the New York Mets jerseys worn during the team's championship 1986 season. The jersey is a pull-over v-neck, just like the ones the players wore in 1986. It also features a number six on the front and back, with the name Backman -- the '86 Mets second baseman and current manager of the Cyclones, Wally Backman.
Every Thursday home game is extra special this summer, thanks to JERSDAY THURSDAYS, featuring high-quality, limited-edition replica jersey giveaways!
Jerseys will be given to the first 2,500 fans in attendance each night. Gates open 90 minutes before gametime.
Adding even more excitement to the Thursday games,
all fans will be invited to run the bases
on the field after the game!