News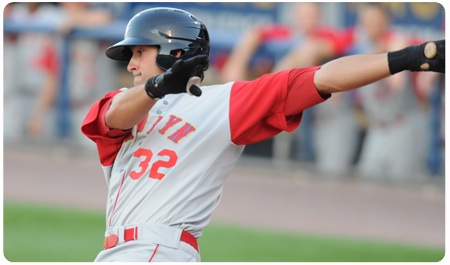 Box Score

Brooklyn was victimized by a three-run bottom of the ninth, and lost to Hudson Valley by a score of 4-3 on Friday night. The loss drops Brooklyn's record to 5-3, but the Cyclones maintain a half-game lead over the Renegades in the McNamara Division.

The Cyclones took an early lead, scoring three times in the third inning, as C Taylor Freeman belted a two-run shot for his first home run of the season, and 1B Jeff Flagg continued his hot hitting to drive in another run. Flagg (pictured, by George Napolitano) went 2-for-4 in the game, and has six hits in his last nine at-bats. CF Darrell Ceciliani went 3-for-4 with a triple to raise his season average to .375. DH Will Cherry and 3B Joe Bonfe chipped in one hit each, but Brooklyn could not score again after the third inning.

Starting pitcher Angel Cuan tossed five innings, and allowed just one run on three hits, leaving with the lead. A.J. Pinera followed with two hitless innings, and Nelson Pereira threw a hitless eighth frame to keep the score at 3-1 heading into the ninth inning. Johan Figuereo ran into trouble in the ninth, though, as Hudson Valley tied the game with a two-out slap single, before a booming double plated the winning run.

Brooklyn next travels to Aberdeen for a two-game series with the IronBirds, before returning home on Monday, June 28th, to again take on the Renegades at 7pm. Fans can purchase special $5 "Turn Back the Clock" tickets, and that night, the first 2,500 kids (14 and under) in attendance will receive a Mike Lupica Sampler giveaway presented by Penguin Books.

There's something for everyone at every Cyclones game -- free t-shirts, free jerseys, bobbleheads, fireworks, free food, and more!