News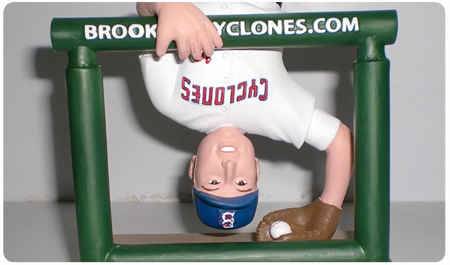 On Monday, August 2, fans will get one of the most unique giveaways ever -- an upside-down Ike Davis bobblehead!

Davis made his pro debut with the Brooklyn Cyclones on June 26, 2008. The highly-touted first-round pick out of ASU doubled in his first at-bat, and proceeded to notch at least one hit in his first 15 straight games. Less than two years later, Davis is now starring at first base for the New York Mets, and has become something of a cult hero, thanks in part to three specific catches he's made that have all had a similar stuntmanesque theme. Each time, he has flipped over the dugout railing to catch a foul ball in spectacular fashion.

The high-demand Cyclones' bobblehead depicts the Brooklyn alum making just such a catch, and stands 7" tall.

The Ike Davis bobbleheadwill be given to the first 2,500 fans in attendance on Monday, August 2 . First pitch is scheduled for 7pm, with the MCU Park gates opening at 5:30pm.