News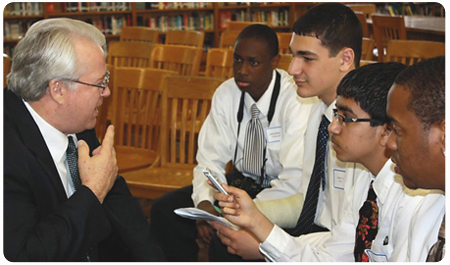 Minor League Baseball President Pat O'Conner recently spent a day in Brooklyn visiting several locations to get an idea of what the New York-Penn League Brooklyn Cyclones are doing to reach out and assist their community.
He was the keynote speaker at the High School of Sports Management in Brooklyn on Wednesday, April 21. O'Conner relayed the five elements of his diversity initiative program, Business to Business, Ownership, Executives, Employment and Fan Base, to an audience of high school students, faculty and special guests as part of the school's Diversity in Sports Spring Symposium, titled Fields Beyond "The Field."
"The symposium held at the High School for Sports Management (HSSM) in Brooklyn was a top-notch event," said O'Conner. "The quality and quantity of the panels, breakout groups and special guests was quite impressive. The HSSM program is an extremely unique concept and is a model for future programs to emulate."
After the symposium, O'Conner, accompanied by Cyclones General Manager Steve Cohen, Cyclones Director of New Business Development Gary Perone and MiLB Special Operations Assistant Darryl Henderson, toured MCU Park, the club's home. Two of the stadium's amenities include a Wall of Remembrance, in honor of the 9/11 victims, and a Jackie Robinson statue.
"MCU Park is located in one of the most historic settings of any Minor League Baseball stadium, nestled next to Coney Island in Brooklyn," remarked O'Conner. "With 5-million visitors a year visiting Coney Island, the Cyclones and MCU Park fit right in as a summer entertainment attraction."
Next on the agenda was the Christian Cultural Center, which has a church, sports network, prep school and several retail businesses among its assets.
"Christian Cultural Center is a magnificent facility serving over 30,000 members from throughout the Eastern Seaboard," stated O'Conner. "The physical plant makes a positive impression with its size, amenities and beauty."
Brooklyn, the city in which Robinson began his Major League career, is a veritable melting pot of cultures and ethnicities.
"I think Pat got a good feel of our club's effect in the community," said Perone.
The group ended their day with a tour of Citi Field and a New York Mets game.
"The New York Mets and their fans can be extremely proud of Citi Field," said O'Conner. "The fan friendly atmosphere blends state-of-the-art features with the history and tradition of Mets baseball and Major League Baseball in the Big Apple. Citi Field offers spacious concourses and fabulous sight lines for all fans in all areas of the ballpark."