News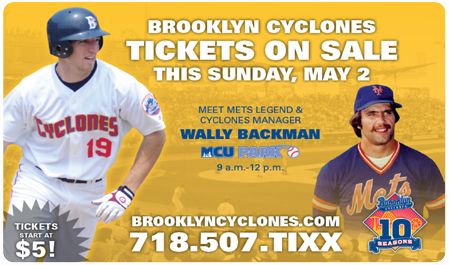 Single Game Tickets for the Brooklyn Cyclones' 2010 season will go on sale this Sunday, May 2nd at 9am. That day, fans can purchase the high-demand tickets online at brooklyncyclones.com, by phone at 718-507-TIXX, or in person at MCU Park or Citi Field.

Former New York Mets star – and 2010 Cyclones manager – Wally Backman will be at MCU Park on May 2nd to greet fans, take pictures, and sign autographs.

This season is the Cyclones' landmark 10th, and once again features 38 home games filled with outrageous entertainment, unique giveaway items, spectacular fireworks shows, and surprise special appearances. The Cyclones' 2010 schedule boasts an "every game guarantee" that ensures something for everyone, all summer long.

The promotional schedule is highlighted by the Cyclones' trademark zaniness – alliterative antics, rhyming revelry, and fun with puns, including:
'01-Day Mondays – "Turn Back the Clock" ticket pricing, reflecting the team's Inaugural 2001 Season rates ($5 and $10 seats) at all four Monday home games
T-Shirt Tuesdays – T-shirt giveaways at all four Tuesday home games
Weiner Wednesdays – Hot dog and sausage promotions & discounts (Dollar Dogs, BOGO deals, Lucky Hot Dogs, etc.) at all seven Wednesday home games
Jersday Thursdays – Replica jersey giveaways at seven Thursday home games, plus everyone runs the bases
Fireworks Fridays – Spectacular fireworks shows at all six Friday home games
Super Saturdays – Special fireworks shows from inside the ballpark at all six Saturday games
Sunday Fundays – Pre-game on-field catch and postgame Kids Run the Bases at all three Sunday home games
Other giveaways include caps, t-shirts, playing cards, visors, duffel bags, lunch boxes, BBQ tool sets, and more. A "Wally Backman Then & Now" bobblehead, a "Fireman Sandy the Seagull" bobblehead, and a Ron Darling bobblehead are sure to be among the hottest collectors' items of the summer.

"The Cyclones have always represented the best in affordable, fun, family entertainment, and this year we're planning on setting the bar even higher," said Cyclones General Manager Steve Cohen. "Our 10th season will be our best yet!"

Advance Single Game Tickets range from $5 - $16.
DATE

TIME
OPPONENT
GIVEAWAY/PROMOTION
Saturday,
Jun. 19
6 pm
Staten Island
Yankees
Buy
Tickets
Enter Promo
Code
Monday,
Jun. 21
7 pm
Aberdeen
IronBirds

'01-Day Monday ("Turn Back the Clock" ticket pricing)
10th Season Plaque, presented by SUNY Downstate Medical Center (first 2,500 fans in attendance)

Buy
Tickets
Enter Promo
Code
Tuesday,
Jun. 22
7 pm
Aberdeen
IronBirds
Buy
Tickets
Enter Promo
Code
Thursday,
Jun. 24
7 pm
Hudson Valley
Renegades

Jersday Thursday
"Home Replica" Jersey, presented by MCU (first 2,500 fans in attendance)
Everyone runs the bases (postgame)

Buy
Tickets
Enter Promo
Code
Monday,
Jun. 28
7 pm
Hudson Valley
Renegades

'01-Day Monday ("Turn Back the Clock" ticket pricing)
Comeback Kid book giveaway (first 2,500 kids) presented by Penguin Books
Game presented by Caesar's

Buy
Tickets
Enter Promo
Code
Wednesday,
Jun. 30
7 pm
Hudson Valley
Renegades

Duffel Bag, presented by City University of New York (first 2,500 fans in attendance)
Weiner Wednesday
Thomas the Tank Engine 65th Birthday Celebration
PRIDE Night

Buy
Tickets
Enter Promo
Code
Thursday,
Jul. 1
7 pm
Staten Island
Yankees

Jersday Thursday
"Boardwalk Blue" Jersey, presented by Kristal Auto Mall (first 2,500 fans in attendance)
Everyone runs the bases (postgame)

Buy
Tickets
Enter Promo
Code
Saturday,
Jul. 3
6 pm
Staten Island
Yankees

BBQ Tool Set, presented by Pepsi (first 2,500 fans in attendance)
Post-game fireworks
Independence Day Celebration
Give Blood! Cyclones Blood Drive

Buy
Tickets
Enter Promo
Code
Thursday,
Jul. 8
7 pm
State College
Spikes
Buy
Tickets
Enter Promo
Code
Friday,
Jul. 9
7 pm
State College
Spikes

Fireworks Friday
Game presented by GEICO and Bank of America

Buy
Tickets
Enter Promo
Code
Saturday,
Jul. 10
6 pm
State College
Spikes

Post-game fireworks
Boy Scout Night & sleepover
Take Your Base 5k Run/Walk Against Cancer
American Cancer Society Night
Bellies & Baseball: A Salute to Pregnancy, presented by Palmer's Cocoa Butter
Game presented by Hospital for Special Surgery

Buy
Tickets
Enter Promo
Code
Wednesday,
Jul. 14
7 pm
Mahoning Valley
Scrappers
Buy
Tickets
Enter Promo
Code
Thursday,
Jul. 15
7 pm
Mahoning Valley
Scrappers

Jersday Thursday
Italian Heritage Jersey (first 2,500 fans in attendance)
Italian Heritage Night
Bay Ridge Night
Hunger Awareness/Canned Food Drive
Everyone runs the bases (postgame)

Buy
Tickets
Enter Promo
Code
Friday,
Jul. 16
7 pm
Mahoning Valley
Scrappers

Fireworks Friday
Performance Fit T-Shirt, presented by Midwood Ambulance (first 2,500 fans in attendance)
EMS Night
Civil Servant Night #1, presented by MCU

Buy
Tickets
Enter Promo
Code
Tuesday,
Jul. 20
7 pm
Lowell
Spinners
Buy
Tickets
Enter Promo
Code
Wednesday,
Jul. 21
7 pm
Lowell
Spinners
Buy
Tickets
Enter Promo
Code
Thursday,
Jul. 22
12 noon
Lowell
Spinners

Day Game
Kids Camp Day
Everyone runs the bases (postgame)

Buy
Tickets
Enter Promo
Code
Friday,
Jul. 23
7 pm
Staten Island
Yankees

Fireworks Friday
Fireman Sandy bobblehead (first 2,500 fans in attendance)
FDNY Appreciation Night
Civil Servant Night #2, presented by MCU

Buy
Tickets
Enter Promo
Code
Sunday,
Jul. 25
5 pm
Staten Island
Yankees

Sunday Funday
On-field catch (pregame)
Kids Run the Bases (postgame)
Jewish Heritage Night

Buy
Tickets
Enter Promo
Code
Saturday,
Jul. 31
6 pm
Staten Island
Yankees

Post-game fireworks
Girl Scout Night
American Girl Night
Game presented by Verizon Wireless

Buy
Tickets
Enter Promo
Code
Monday,
Aug. 2
7 pm
Hudson Valley
Renegades

'01-Day Monday ("Turn Back the Clock" ticket pricing)
Medieval Times Night
Game presented by Bank of America

Buy
Tickets
Enter Promo
Code
Wednesday,
Aug. 4
7 pm
Batavia
Muckdogs

Weiner Wednesday
Office Olympics Night
Game presented by Nutrament

Buy
Tickets
Enter Promo
Code
Thursday,
Aug. 5
7 pm
Batavia
Muckdogs

Jersday Thursday
Irish Heritage Jersey, presented by Budweiser (first 2,500 fans in attendance)
Irish Heritage Night
Everyone runs the bases (postgame)

Buy
Tickets
Enter Promo
Code
Friday,
Aug. 6
7 pm
Batavia
Muckdogs

Fireworks Friday
Brooklyn Wall of Remembrance Night
Game presented by Premio Foods
Civil Servant Night #3, presented by MCU

Buy
Tickets
Enter Promo
Code
Saturday,
Aug. 7
6 pm
Connecticut
Tigers

Post-game fireworks
Backpack, presented by Pepsi (first 2,500 fans in attendance)
DSNY Appreciation Night
Ladies Night
Game presented by Cancer Treatment Centers of America
Civil Servant Night #4, presented by MCU

Buy
Tickets
Enter Promo
Code
Sunday,
Aug. 8
5 pm
Connecticut
Tigers

Sunday Funday
MCU Park Model, presented by MCU (first 2,500 fans in attendance)
Salute to Sandlot Baseball
Baby's First Ballgame
On-field catch (pregame)
Kids Run the Bases (postgame)

Buy
Tickets
Enter Promo
Code
Monday,
Aug. 9
12 noon
Connecticut
Tigers

Day Game
Kids Camp Day
'01-Day Monday ("Turn Back the Clock" ticket pricing)

Buy
Tickets
Enter Promo
Code
Wednesday,
Aug. 18
7 pm
Staten Island
Yankees

Weiner Wednesday
Umbrella, presented by GEICO (first 2,500 fans in attendance)
NYPD Appreciation Night
Give Blood! Cyclones Blood Drive
Civil Servant Night #5, presented by MCU

Buy
Tickets
Enter Promo
Code
Tuesday,
Aug. 24
7 pm
Hudson Valley
Renegades

T-Shirt Tuesday
"Property Of" T-Shirt" , presented by Men's Senior Baseball League (first 2,500 fans in attendance)
Bark in the Park Night, presented by the NYC Mayor's Alliance -- Bring your dog to the game! Call 718-37-BKLYN for "Doggie Ducats"
KRAFT Singles Tuesday Night Tickets, presented by KRAFT Singles

Buy
Tickets
Enter Promo
Code
Wednesday,
Aug. 25
7 pm
Aberdeen
IronBirds

Weiner Wednesday
10-Year Team Poster (first 2,500 fans in attendance)

Buy
Tickets
Enter Promo
Code
Thursday,
Aug. 26
7 pm
Aberdeen
IronBirds

Jersday Thursday
"Pitch Black" Jersey, presented by Verizon FiOS (first 2,500 fans in attendance)
Everyone runs the bases (postgame)

Buy
Tickets
Enter Promo
Code
Friday,
Aug. 27
7 pm
Aberdeen
IronBirds

Ron Darling bobblehead (first 2,500 fans in attendance)
Ron Darling Night
Fireworks Friday

Buy
Tickets
Enter Promo
Code
Tuesday,
Aug. 31
7 pm
Vermont
Lake Monsters
Buy
Tickets
Enter Promo
Code
Wednesday,
Sept. 1
7 pm
Vermont
Lake Monsters

Weiner Wednesday
Garage Sale Giveaway (first 2,500 fans in attendance)

Buy
Tickets
Enter Promo
Code
Thursday,
Sept. 2
7 pm
Vermont
Lake Monsters
Buy
Tickets
Enter Promo
Code
Friday,
Sept. 3
7 pm
Tri-City
Valley Cats

Fireworks Friday
Game presented by Opportunity for a Better Tomorrow

Buy
Tickets
Enter Promo
Code
Saturday,
Sept. 4
6 pm
Tri-City
Valley Cats

Post-game fireworks
Game presented by bank of America

Buy
Tickets
Enter Promo
Code
Sunday,
Sept. 5
5 pm
Tri-City
Valley Cats

Sunday Funday
Team Photo Poster, presented by Caesar's (first 2,500 fans in attendance)
Fan Appreciation Night
On-field catch (pregame)
Kids Run the Bases (postgame)

Buy
Tickets
Enter Promo
Code
Game times and promotions subject to change