News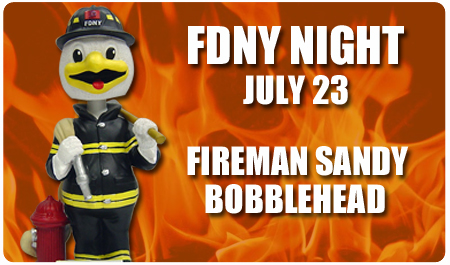 The Cyclones' 2010 FDNY Night just got even hotter! On July 23rd, fans will receive Fireman Sandy bobbleheads, with the Brooklyn bird in full FDNY gear.

The high-demand collector's item stands 7" tall, and features the Cyclones mascot in a black and yellow firefighter uniform, with a helmet and axe, ready for action. Sandy is also toting a hose that is connected to a fire hydrant! Since he's a rookie in the department this year, Sandy is designated as a "probie," but he plans on making his way all the way up the ranks!

The Fireman Sandy bobblehead, presented by MCU, will be given to the first 2,500 fans in attendance on Friday, July 23rd. First pitch is scheduled for 7pm, with the MCU Park gates opening at 5:30pm.

FDNY Night is sure to be one of the most popular games of the year. In addition to the bobblehead, the team will be wearing special FDNY-themed jerseys that night, which will be auctioned off throughout the game. The Cyclones will take on the rival Staten Island Yankees, and as with every Friday night home game, there will also be a fireworks show!

There's something for everyone at every Cyclones game -- free t-shirts, free jerseys, bobbleheads, fireworks, free food, and more!

Check out the entire promotional schedule and get your tickets now!