News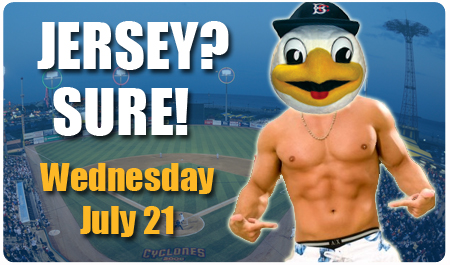 Yo, Brooklyn, we have a situation.

On Wednesday, July 21, the Brooklyn Cyclones will be hosting "Jersey? Sure!" Night – paying homage to a pop-culture phenomenon and giving away limited-edition collectible jerseys. The high-quality mesh jersey will feature the Cyclones logo on the front and a picture of the team's mascot, Sandy the Seagull, in a fist-pumping pose on the back, with the words "Jersey? Sure!" at the top. The first 2,500 fans in attendance on July 21st will receive a jersey.

In addition to the jersey giveaway, the Cyclones' "Jersey? Sure!" Night will feature:
Dugout Dance Battles – Contestants will "battle" to techno beats on top of the dugouts between innings for a chance to win prizes (and fame).
GTL Giveaways – In honor of the GTL lifestyle ("gym, tan, laundry") the Cyclones have partnered with a local gym, tanning salon, and laundromat and will be giving away GTL gift certificates throughout the night
Baseball Blowouts – A special station on the ballpark's concourse level will allow fans to have their hair styled like a good fastball – high and hard. Stylists from a local salon will be on hand to give the hair-raising transformations a professional touch.
"We thought this would be a fun way for us to incorporate one of the hottest trends of the year into our already-unique entertainment," said Cyclones General Manager Steve Cohen (who also goes by the nicknames "Stevie Sweetheart," "DJ Stevie C," "Co-Co," and "The Perspiration"). "We still think the Coney Island shore is the best in the Tri-State area, but we're willing to give Jersey its due…at least for one night."
There's something for everyone at
every
Cyclones game -- free t-shirts, free jerseys, bobbleheads, fireworks, free food, and more!
Check out the entire promotional schedule and get your tickets now
!