News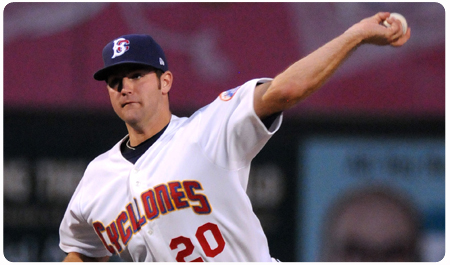 Box Score

Brooklyn dropped Game One of the best-of-three Semifinal series on Tuesday, putting the team in a must-win situation in Games Two and Three. The Cyclones will travel to Mahoning Valley for the final two games of the series, on Wednesday and, if necessary, Thursday.

On Tuesday, the Cyclones sent their ace, Mark Cohoon, to the mound against Mahoning Valley. Cohoon was tagged with the loss, despite 7.0 strong innings in which he allowed just three runs (two earned) on five hits. Cohoon (pictured, by George Napolitano) did not issue a walk, and struck out eight batters.

Brooklyn's offense managed just five hits in the loss -- two by Jordany Valdespin, and one apiece from Sam Honeck, Ralph Henriquez, and Nick Santomauro. Santomauro's hit was a solo home run over the left field wall, and gave the Cyclones their only run of the game.

The Cyclones -- the NYPL Wild Card team -- travel to Mahoning Valley for Game Two and Three (if necessary) of the Semifinals. A loss in either game would end Brooklyn's season, but if the Cyclones can win both games, the team will return home to face either Staten Island or Lowell in the Championship Series.

The Cyclones can potentially host a minimum one more home playoff game. For ticketing purposes, that game is designated Game B.