News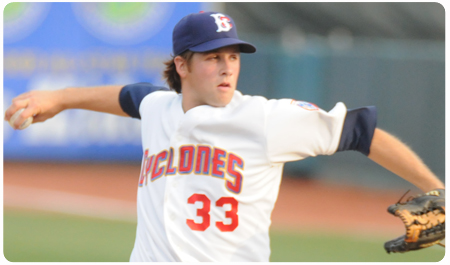 Box Score

With five different pitchers tuning up for the playoffs, the Cyclones took a loss on Sunday in the final game of the regular season. Brooklyn (45-30) lost by a score of 4-2 against Lowell (45-30).

Collin McHugh made the start for Brooklyn and threw 2.0 innings of two-hit, shutout ball. Jim Fuller followed with 1.2 innings in which he allowed one run on two hits. Lance Hoge tossed 1.1 no-hit frames. Chris Hilliard took the loss after surrendering three runs on four hits in 2.0 innings, and T.J. Chism closed out the game with 2.0 one-hit, shutout innings of his own.

Offensively, the Cyclones managed nine hits against Lowell. Scott Grimes and Luis Rivera each had two-hit games. In the bottom of the third, Jordany Valdespin led off with a bunt single, and Carlos Beltran -- in the Cyclones' lineup on a rehab assignment -- moved Valdespin to third with a single to right field. Rivera and Grimes then followed with RBI singles to give the Cyclones the team's only runs of the game.

The Cyclones begin their postseason play by hosting the Pinckney Division Champion Mahoning Valley Scrappers on Tuesday, September 8th at Keyspan Park in Game One of the best-of-three NYPL Semifinals.
Click here to get your tickets, or call 718-507-TIXX