News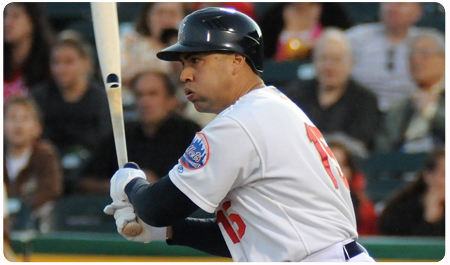 Box Score

The Brooklyn Cyclones (44-27) suffered a two-run loss on Wednesday, losing to the Hudson Valley Renegades (35-36) by a score of 4-2. The loss drops Brooklyn into second place in the McNamara Division for the first time this season. The Cyclones have already clinched a playoff berth, but now trail Staten Island by half a game for the division lead.

New York Mets centerfielder Carlos Beltran appeared for the Cyclones, as part of a major league rehab assignment. Beltran (pictured, by George Napolitano) had one hit and one walk in four plate appearances. Beltran drove in a run with a line drive single in the first inning.

The Cyclones had nine hits -- three from 2B Matt Gaski, and one hit each for SS Jordany Valdespin, C Dock Doyle, CF R.J. Harris, 1B Sam Honeck, LF Nick Santomauro, and Beltran. Santomauro blasted a home run to right field in the seventh inning to give Brooklyn its second run of the game.

RHP Wes Wrenn started the game for the Cyclones and surrendered four runs on eight hits in 4.2 innings. Wrenn struck out five Renegades, while surrendering one walk. LHP Lance Hoge relieved Wrenn in the fifth inning and pitched 4.1 scoreless innings. Hoge struck out five batters and surrendered three hits and just one walk.

After agame at Hudson Valley on Thursday, the Cyclones return home on Friday for the final three games of the regular season. Friday's game will be followed by fireworks, Saturday's game features a Poker Chip giveaway, and Sunday is Fan Appreciation day, with another post-game fireworks show.
Click here to get your tickets, or call 718-507-TIXX