News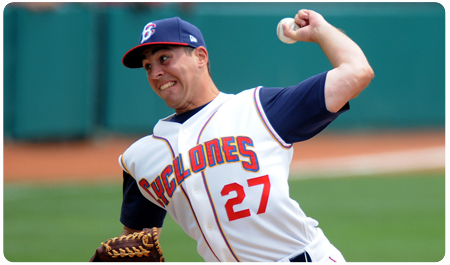 Box Score

The Brooklyn Cyclones (31-18) lost the series opener against the Jamestown Jammers (19-30) by a score of 4-0 in front of a sold-out crowd on Friday night.

LHP Jim Fuller (pictured by George Napolitano) pitched five strong innings, struck out six, walked one batter, and surrendered eight hits. Although Fuller would ultimately be saddled with the loss, he only surrendered one run. This is the fourth game this season that Fuller has allowed three runs or less and has taken the loss.

RHP Mike Lynn relieved Fuller in the sixth inning and pitched two innings of relief. Over two innings, Lynn struck out two batters, surrendered three hits, no walks, and allowed one run (unearned). RHP Erik Turgeon pitched the eighth inning and allowed one hit, one walk, two runs and struck out one batter. RHP Samuel Martinez was electric in the ninth inning, facing four batters -- he walked one and struck out the other three.

The Cyclones managed six hits to compliment their seven walks, but could not capitalize with runners on base. Their two extra-base-hits came from the Cyclones' middle-infield. 2B Jake Eigsti hit a double in the fifth inning, and SS Robbie Shields hit a line drive to the gap in the sixth inning for his third triple of the season. Eigsti had two hits while RF Luis Rivera, 3B Nick Giarraputo, CF John Servidio and Shields each had one.

Saturday, August 8th the Cyclones will play Jamestown for the second game of this series at KeySpan Park. It will be DSNY Night -- the fourth Civil Servant night that the Cyclones host this season, presented by the Municipal Credit Union. The Cyclones will also be giving away assorted promotional items as part of a "Garage Sale Giveaway."
Click here to get your tickets, or call 718-507-TIXX