News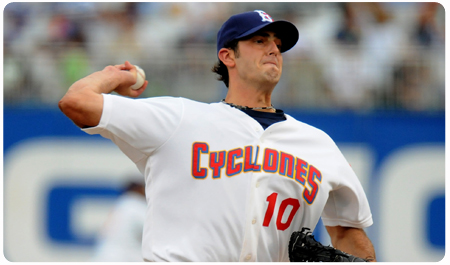 In the first game of a doubleheader against Aberdeen on Sunday, August 23rd, RHP Brandon Moore tossed a complete-game seven-inning no-hitter, as the Cyclones won 5-0.

The no-hitter is the first in franchise history. In 2002, RHP Miguel Pinango tossed 8.2 no-hit innings before surrendering a single.

According to New York-Penn League rules, when teams play a doubleheader, each game is scheduled for seven innings.

Moore struck out six and walked three in a dominant performance to earn his sixth win of the season, and lower his ERA on the year to 2.15.

Justin Garber led off the first inning for Brooklyn with a double to right field. Richard Lucas later hit a sacrifice fly to center field to score Garber and put the Cyclones up 1-0 after one inning of play.
Luis Rivera led off the fourth inning with a walk. Two outs later, Alex Gregory hit a double into center field, allowing Rivera to score, increasing the Cyclones' lead to 2-0.
In the top of the seventh, Garber hit a single with the bases loaded to score Gregory. Jordany Valdespin then singled to score Robbie Shields, and Rivera reached base on an error to score Garber, putting the Cyclones up 5-0.

The win increases Brooklyn's league-best overall record to 39-22.