News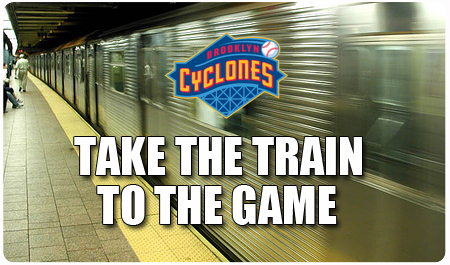 NYC Public Transportation offers fast and affordable alternatives for travel to the ballpark for your next Cyclones game. Public transportation saves you money on gas and parking, and alleviates the hassles of traffic and parking lots on your way to and from the games.

The Coney Island - Stillwell Avenue subway station is located just two blocks east of KeySpan Park, and is accessible by the D, F, N, and Q subway lines.

To reach KeySpan Park by bus, fans can take the B36, B64 or B74 bus, or the Coney Island-bound B82 bus, to Stillwell Avenue and Surf Avenue. Then, walk two blocks west along Surf Avenue to KeySpan Park.

"Coney Island is bustling with activity during the summer," said Cyclones General Manager Steve Cohen. "And while that's great news, it can also lead to a traffic crunch on weekend nights that are particularly busy. We encourage as many fans as possible to use public transportation to get to and from the games to make their entire experience more affordable, and more enjoyable!"
You can use the MTA's online Trip Planner to route your next trip by clicking here.