News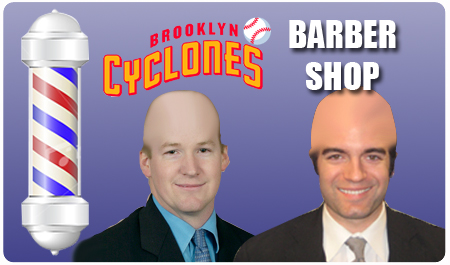 The Cyclones and ValleyCats have made a bet that will leave one Assistant GM looking very different...and very bald.

The wager was made at the New York-Penn League meetings in May, when Cyclones' GM Steve Cohen was relentlessly mocking Tri-City Valley Cats' Assistant GM (and former Cyclones employee) Vic Christopher about his lack of athleticism during a NL vs. AL volleyball match. Christopher challenged that he was the best athlete in the league, and that's when the sparks began to fly.

"Vic is the only player I've ever seen strike out three times in one game in slow-pitch softball," recounted Cohen. "He couldn't hit water if he fell out of a boat." "Cohen is just jealous," responded Christopher. The old man has lost what little he used to have, and he's bitter about it."

Cohen, whose gyroball propelled Team 24 to multiple victories, bristled at this and issued a challenge.

Christopher will accompany the Tri-City team to Brooklyn on July 2nd, and face off against Cohen in an at-bat of epic proportions. If Cohen strikes Christopher out, Vic must shave his famous coif in front of the hometown crowd. If Christopher does not strike out, Cyclones Assistant GM Kevin Mahoney must shave his head (thereby exposing his red neck).

"I don't exactly know how I got roped into this," explained Mahoney. "Steve told me that it was because he's just too good looking to mess with perfection...but I think it's because he doesn't have much hair to start with, and most of it is grey, anyway."

The Follicle Folly at-bat will take place prior to the 7pm game on July 2nd, so get your tickets now and see who's going bald!