News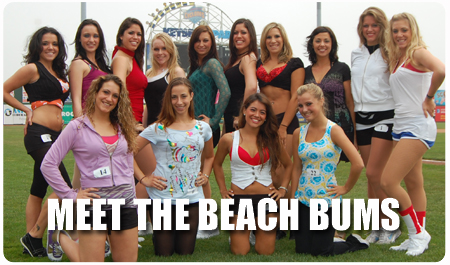 The 2009 Beach Bums Dance Team was selected on Saturday, and the '09 Bums are high-energy, talented, experienced dancers who are sure to add another dimension to the one-of-a-kind atmosphere at KeySpan Park.

Captain/Choreographer Avrey -- a professional dancer and dance teacher who has worked in the past with the New York Dragons of the Arena Football League and the New York Islanders of the NHL -- ran the auditions, which consisted of a dance routine and an interview process. Eventually, a final team of 13 Beach Bums was chosen, with members scheduled to perform at Cyclones games this season.

"We had a great turnout in our first year of auditions," said Community Relations Manager Elizabeth Lombardi. "The 'Dance Team' aspect of the Beach Bums is a new one for us, and everyone that tried out was fantastic. The choices were not easy ones. In the end, I think we selected a great group, with a wide range of amateur and professional experience, and we're excited to introduce a new level of entertainment to our fans."

In addition to Avrey, the 2009 Beach Bums are: Alyssa, Amanda, Anesha, Anna, Danielle, Denise, Doris, Kelly, Mary, Nichole, Nicole, Shannon, and Tara Lynn.

The Beach Bums will perform throughout Cyclones games, interact with fans around the ballpark, make appearances throughout the community, and represent the Cyclones in a variety of other activities and events.