News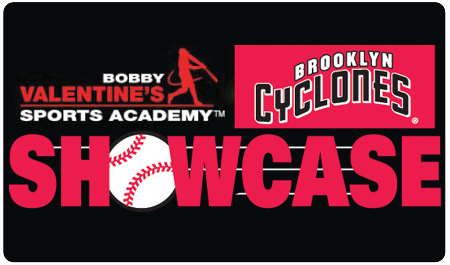 Bobby Valentine's Sports Academy and the Brooklyn Cyclones are pleased to announce the first annual Pre-Draft Professional Baseball Showcase. The event will take place on Sunday July 12th, 2009 at KeySpan Park, home of the Brooklyn Cyclones (a rain date is scheduled for Sunday, July 26th). The Showcase will feature some of the finest college and high school prospects (2009 and 2010 class only) from the Tri-State area participating in front of representatives from various Division I, II, and III college baseball programs and Major League Baseball Scouting Departments.

The Showcase will begin at 10:00am, with registration starting at 9:00am.
The agenda is as follows:
Warm-ups and Morning Drills - (Led by the Parisi Speed School
60 yard dash Defensive Fielding (Primary Positions - only,unless representatives request otherwise)
Hitting and Batting Display
Stimulated game in the afternoon, players selected by the representatives
For $395, each prospect will receive:
Admittance to the showcase
A complimentary t-shirt
Evaluation
With only 100 slots available, admittance is limited. To ensure placement in the showcase, you must register at www.bobbyvacademy.com or by downloading a registration form here. All players must be at the ballpark by 9am for registration, with their Medical Release form and 2009 Pre-Draft Professional Baseball Showcase form, completely filled out. If paying by check or money order, please complete each form and send it to:

Bobby Valentine's Sports Academy
Attn: Sam Colon
72 Camp Ave
Stamford, CT

The deadline to register is Monday, July 6th.

For further information, please contact Sam Colon via email at scolon@bobbyvacademy.com or you can speak to representatives from Bobby Valentine's Sports Academy by calling (203) 968 - BVSA (2872).