News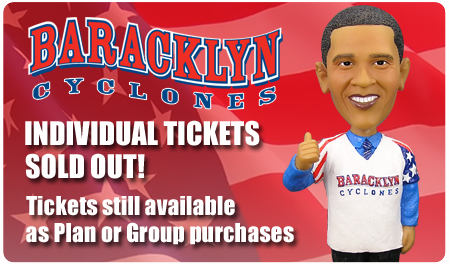 On the first day of ticket sales for the June 23rd "Baracklyn" Cyclones game, every ticket made available by the team -- nearly 2,500 total -- was sold, in less than 12 hours.

Individual tickets to the June 23rd game are no longer available, but fans can still get to the game with the purchase of Season Tickets or a Mini Plan.
The June 23rd Baracklyn Cyclones game is available as part of the Fireworks Mini Plan. The Fireworks Plan is a seven-game plan, starting at $77, that includes five Friday Night Fireworks games, along with the Baracklyn Cyclones game and an additional game on Monday, July 27th.
The Cyclones also offer a nine-game Flex Plan option, allowing fans to choose any nine games and create their own package.
Returning 2008 Mini Plan Holders will enjoy an exclusive renewal period from February 2nd through the 8th, and new 2009 Mini Plans will be available beginning February 9th at 10am.
Please call the Cyclones Ticket Office at 718-37-BKLYN for more information.