News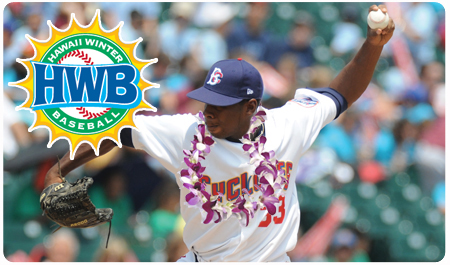 Former Cyclone Roy Merritt is currently playing in the Hawaii Winter Baseball league, and still racking up strikeouts. The lefthanded sidearmer is pitching for the Honolulu Sharks and made his debut recently with two perfect innings, in which he struck out four batters.

Merritt was a key member of the Cyclones bullpen in 2008, going 3-0 with four saves and a 1.49 ERA in 25 relief appearances. Merritt struck out 55 batters in 42.1 innings of work, allowing just 22 hits, seven earned runs, and 17 walks.

Hawaii Winter Baseball is an organized professional baseball league sanctioned by Major League Baseball (MLB). It provides a setting for top young professional ball players to play against top-notch U.S. and international competition to accelerate U.S. player progress through their respective major league farm systems and to give top young Asian players opportunities for international competition.

Each team will play 40 games during the 2008 season which runs from late September through late November. The league's inaugural season was in 1993 with continuous seasons running through 1997. The league returned in 2007 for its seventh season and the North Shore Honu claimed the league title with a 5-1 victory over the Waikiki BeachBoys.

The level of professional baseball play is primarily at the A & AA level. Top prospects from MLB in the U.S., and the professional leagues in Japan, Korea, Taiwan and China are chosen by their respective organizations to develop their skills.