News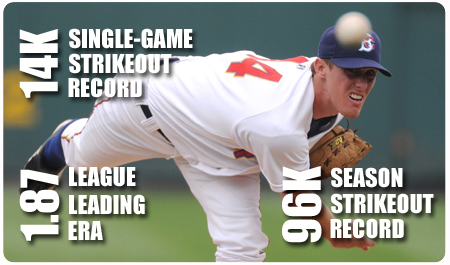 RHP Brad Holt was drafted by the Mets in June, with the team's third pick. He was taken in the supplemental ("sandwich") round, between rounds one and two, as compensation for New York losing Tom Glavine to free agency.

With high picks come high expectations, and Holt lived up to just about every one. The 22-year-old from Albemarle, NC took a bite out of the Big Apple during his time in Brooklyn, leading the team -- and the league -- in ERA and strikeouts during a dominant first season in professional baseball.

Holt went 5-3 with a league-best 1.87 ERA and 96 strikeouts in 14 games. In 72.1 innings, he allowed just 43 hits, 18 runs, 15 earned, and 33 walks. In addition to leading the league in Ks, his strikeout total set a new franchise record for the Cyclones, eclipsing the previous mark of 93, set by Kevin Deaton in 2002. Holt finished the season with an eye-popping 10.7 Ks per nine innings pitched, and was named to the New York-Penn League All-Star Team in mid August. He tossed one inning in the All-Star Game, striking out two and walking one (who was erased trying to steal second).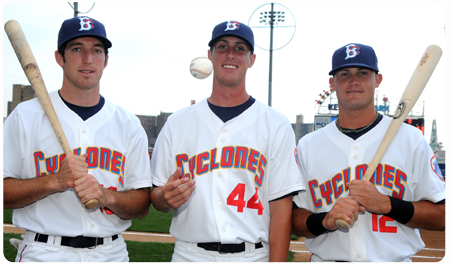 Holt struck out 10 batters in a game on four separate occasions,and thrilled the home crowd when he tied a franchise record with 14 Ks in a single game (in just six innings) on July 24th vs. Vermont. In his last start of the season, September 1st at Aberdeen, he almost duplicated the feat, striking out 12 batters in just 5.2 innings. In his second start of the year, Brad showed signs of things to come when he hurled five no-hit innings en route to his first professional win, before being removed from the game due to a pitch count (6/26/08 vs. ABD).
Armed with a mid-90s fastball, a biting curveball, and working with pitching coach Hector Berrios on his off-speed pitches, Holt seemed to be honing his arsenal with each appearance. And honing his control, as well. After walking 21 batters in his first eight games, he walked just 12 in his final six outings, adding touches of finesse to his power.
Holt's was one of the most dominating seasons ever by a Cyclones pitcher, which is impressive, considering that the Brooklyn pitching staff has annually ranked among the top three in the league, and has churned out All-Star hurlers. In fact, Holt gave the team its second consecutive individual ERA title (Dylan Owen, 2007) and contributed to the Brooklyn staff winning
its
second straight ERA title (2.93 in 2007, and 2.76 in 2008).
Cyclones fans will watch Holt's career with special interest, knowing that it all started right here in Brooklyn.