News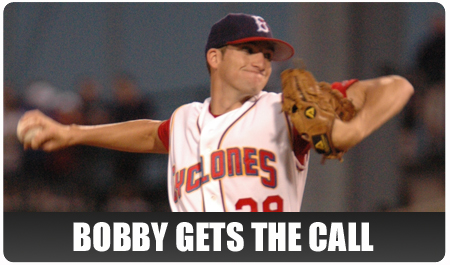 Former Cyclone Bobby Parnell was added to the Mets's 40-man roster on September 1st. Parnell was an All-Star for Brooklyn in 2005, when he led the league with a 1.73 ERA. In fact, Parnell made the start and threw the first pitch in the first All-Star Game in NYPL history, held in 2005 at KeySpan Park.

In 15 games that season (14starts), Parnell went 2-3 with a 1.73 ERA. In 73 innings pitched, he allowed 48 hits, 20 runs, 14 earned, and 29 walks, while striking out 67 batters.

Parnell went on to pitch for Hagerstown (A) and St. Lucie (A) in 2006, and St. Lucie and Binghamton (AA) in 2007. This season, he began the year at Binghamon and went 10-6 with a 4.30 ERA in 24 games (all starts). He was assigned to New Orleans (AAA) in early August, and went 2-2 with a 6.64 ERA in five games (four starts).

When he makes his major league debut, Parnell will join a list of 20 Cyclones alumni who have gone on to play in the major leagues.