News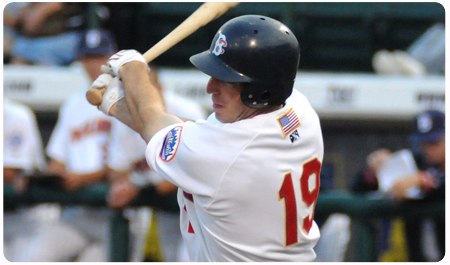 The Cyclones extended their winning streak to seven games with a 5-4 win on Saturday night in 10 innings. The seven-game streak is the longest of the season, as Brooklyn was also able to extend its streak of at least nine hits to eight games with an 11-hit effort.

1B Ike Davis was able to push his hitting streak to eight games by going 3-for-5 with three RBI. Davis (pictured, by George Napolitano) singled in his last three at-bats in the contest, including a 2-RBI single in the fifth inning. LF Eric Campbell provided the rest of the run support, hitting an RBI single in the first inning and belting his fourth home run of the year to lead off the tenth inning, which led to the eventual game-winning run. C Jordan Abruzzo went 2-for-4, DH Juan Lagares hit a double and scored a run, and 2B Josh Satin hit his second triple of the season. SS Wilmer Flores and CF Sean Ratliff also delivered hits for Brooklyn.
RHP Chris Schwinden made his 13th appearance of the season and his seventh start of the year for the Cyclones. In his second start since the NYPL All-Star Game, Schwinden pitched five innings and allowed three runs (two earned) on seven hits with eight strikeouts. It was the third time this season Schwinden struck out at least eight batters in a game (8/7 and 8/17). LHP Roy Merritt entered in relief and worked three innings, giving up a run on three hits and a strikeout. LHP Jim Fuller picked up his first win of the year in 1.2 innings of relief before RHP Yury Santana notched his second one-out save in as many nights, giving him 12 saves for the season.
The win by the Cyclones put them within one game of the wild card in the NYPL playoff race behind Batavia. Brooklyn remains four games back of Staten Island in the McNamara Division. The Cyclones return home on Sunday, August 31st at 5:00 pm to face the Hudson Valley Renegades. On Sunday, the first 1,500 kids will receive a mini Pee Wee Bobblehead as well as Baby's First ballgame, when parents will be able to stroll their kids around the bases after the game!
Tickets are still available by clicking here or calling 718-507-TIXX