News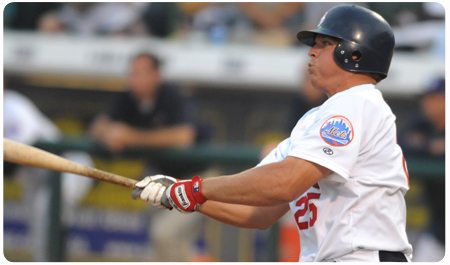 After losing a lead in the 10th ining, the Cyclones were able to redeem themselves in 11th, topping Tri-City 5-4. Brooklyn has won two in a row and secured the series win against the Valley Cats, inching closer to the Wild Card spot and also to the first place Yankees.
The Cyclones rallied in the 8th inning to tie the game, as Sean Ratliff led off with his eighth double of the year and later scored on a two-run RBI single by Seth Williams, who also drove in Josh Satin to tie the game at three apiece. Things got wild in the 10th when Juan Lagrares started the inning with a lead-off single and later scored the go-ahead run on wild pitch by the opposing pitcher. But in the bottom half of the inning, Brooklyn was not able to shut the door as Tri-city was able to tie the game at 4-4.

After a power outage cloaked the stadium in darkness and stopped play, the Cyclones bounced back in the 11th as they went ahead for good, thanks to an RBI double by Jordan Abruzzo (pictured, by George Napolitano). The Cyclones combined for nine hits. Williams and Abruzzo each had a pair, while Jose Jimenez, Eric Campbell, Ike Davis, Ratliff and Lagares also each had hits.
RHP Chris Schwinden made his 6th start of the season, pitching 3.2 innings, and allowing two runs. Jeff Kaplan, Yury Santana, and Jimmy Johnson all followed Schwinden and combined for 5.2 scoreless innings. RHP Stephen Clyne blew the save in the 10th, but RHP Erik Turgeon came on in the 11th to secure the win for the Cyclones as he picked up his first save of the year.
The Cyclones conclude their series against Tri-City on Tuesday. They return home on Wednesday, August 27 to play the Oneonta Tigers at 7:00 pm when it will be Nut-Free Night.
Tickets are still available by clicking here or calling 718-507-TIXX