News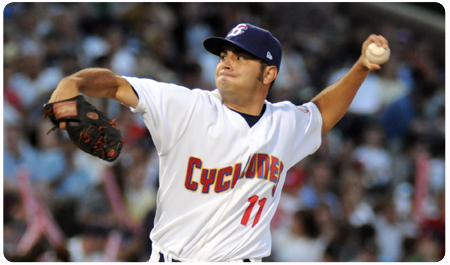 The Cyclones took the series against Batavia on Monday, as they defeated the Muckdogs 2-1. Brooklyn got off to a great start, scoring two runs in the first inning. Those runs were the last of the night for the offense, and the pitching took care of the rest.
RHP Pedro Martinez (2-2) made his team-high 11th start of the season, and pitched a solid five innings, allowing just one run with a season-high eight strikeouts. LHP Jimmy Johnson (pictured, by George Napolitano) relieved Martinez and pitched 3.2 scoreless innings while striking out six Muckdogs. RHP Yury Santana came on to get a one-out save, giving him a team-high 10 saves for the season.
Offensively, Brooklyn managed seven hits in the game. RF Kirk Nieuwenhuis led off the game with his sixth double of the year and later scored on a wild pitch. C Jordan Abruzzo also picked up his sixth double of the year and scored on a single by SS Reese Havens. J.R. Voyles, Seth Williams, Jose Jimenez and Ike Davis picked up the remainder of the hits.
The Cyclones go on the road against Auburn for a three game series. They return home on Friday, August 15th to start a series against Tri-City. On Friday, there will be Fireworks after the game, and the game will be presented by Sovereign Bank.
Tickets are still available by clicking here or calling 718-507-TIXX