News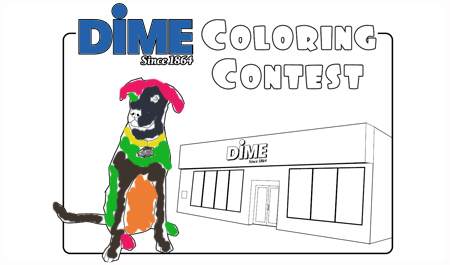 Enter the Dime/Cyclones Maverick Coloring Contest to win a set of four Cyclones tickets and have your photo taken with Maverick the Wonder Dog at Bark in the Park night on August 11th.

OFFICIAL CONTEST RULES:
No purchase necessary to win
To Enter: Dime's Coloring Contest begins on 7/1/08 and ends on 7/31/08 at the Brooklyn and Valley Stream locations.
Step 1: Print out the picture for your child.
Step 2: Have your child color the picture and put his/her name and age, and your name and your contact phone number on the back of the picture.
Step 3: Drop off the picture to any Brooklyn branch or the Valley Stream branch by 7/31/08, during normal business hours.
Eligibility: The contest is open to any child age 10 and under (as of (7/1/08) with a parent or guardian who is a NYS resident. The children of employees of The Dime, and its affiliates are not eligible. The contest is subject to applicable federal, state and local taxes. By entering your child, the parent or guardian agrees to abide and be bound by the Entry Form rules and to accept the decision of The Dime Savings Bank of Williamsburgh as final in respects.

Prizes: 3 winners will receive 4 tickets (valued at $13.00 per ticket) to the Cyclones Bark in the Park August 11th game. Child winners will have their picture taken with Maverick the dog. Contest is open to children age 10 years and under. All pictures will be displayed in the Valley Stream and Brooklyn branches and remain the property of The Dime Savings Bank of Williamsburgh. Decision of The Dime is final.

Prize Restrictions: Prizes are non-transferable. Federal, state and local taxes and any expenses relating to the acceptance and use of the prizes are the sole responsibility of the parent or guardian of each winner.

Drawing: 3 prizewinners will be selected from eligible entrants on Monday, August 4th at 3:00 p.m at Dime's Main Office branch.

Odds: Odds of being selected as a winner will depend on the number of eligible entries received at the noted Dime locations above.

Winner notification: The parents or guardians of the child winners will be notified by telephone.