News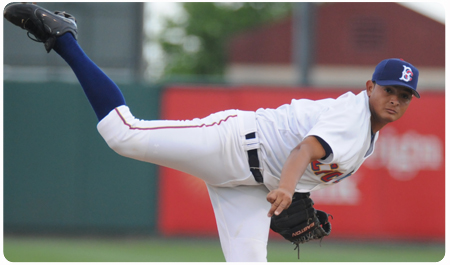 Brooklyn lost its first series of the year on Tuesdy, falling to Hudson Valley, 4-1. Four runs in the first four innings proved to be the Cyclones' undoing, as the offense mustered just two hits and one unearned run.

Starting pitcher Manny Olivares (pictured, by George Napolitano) allowed four runs, three earned, in 3.2 innings, and the Cyclones never recovered.


John Servidio and Will Vogl notched Brooklyn's only hits, and the Cyclones plated their lone run in the top of the fiftfh, when Cesar Cordido reached on an error, went to second on a ground out, went to third on a wild pitch, and scored on a passed ball.

Roy Merritt and Eric Beaulac fired 4.1 scoreless innings to end the game, but the Brooklyn bats could not mount a comeback, as the team fell to 4-4 on the year.

The Cyclones wrap up their series in Hudson Valley on Wednesday, before returning home on Thursday at 7pm to face the Aberdeen IronBirds. On Thursday, the Cyclones will host Pirate Night (aarrr!). In addition to eyepatches and earings, fans will be treated to a treasure hunt, and may even be forced to walk the plank.
Tickets are still available by clicking here or calling 718-507-TIXX.