News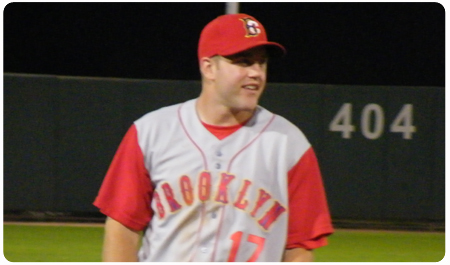 The Cyclones staged a late-inning comeback on Friday to defeat Aberdeen, 3-2, and take sole posession of first place in the McNamara Division for the first time this season.

Brooklyn (3-1) trailed for nearly the entire game, and went scoreless until the seventh inning. But the team's pitchers kept the game within striking distance, allowing just two runs, and striking out a season-high 14 batters. In fact, the Cyclones bullpen tossed 6.2 scoreless frames and allowed just two hits. RHP Chris Schwinden made the start, and allowed two runs in 2.1 innings. Roy Merritt, Scott Shaw, Wendy Rosa, Jimmy Johnson, and Yury Santana shut down the IronBirds the rest of the way, with Shaw (1-0) picking up his first win, and Santana notching his second save. Shaw struck out eight IronBirds in four innings.

Down 2-0, the Brooklyn bats broke through in the seventh inning. 3B Eric Campbell (pictured) got things started with a double to left field, and then RF John Servidio blasted the team's first home run of the season to tie up the game. In the eighth, SS Matt Bouchard singled and stole second, and after a walk to CF Kirk Nieuwenhuis, DH Zach Lutz singled to bring Bouchard home with the go-ahead run. Lutz is hitting .429 and leads the Cyclones with five RBI.

The Cyclones continue their series with the IronBirds on Saturday and Sunday, before returning home on Monday at 7pm to take on the Hudson Valley Renegades. On Monday, the first 2,500 fans will receive a Schedule Pen, presented by SUNY Downstate Medical Center.

Tickets are still available by clicking here or calling 718-507-TIXX.